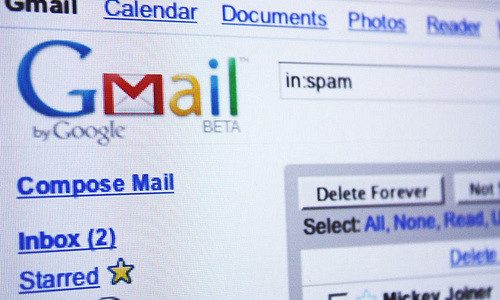 At last Google launches a new redesigned Gmail
It has been 14 years since its launch, but Google has finally rolled-out its new, redesigned Gmail for desktop and mobile in what commentators say is the most significant single upgrade in Gmail's history.
The redesign offers plenty of new features such as confidential mode, offline support and email snoozing. All with the aim, Google said to make Gmail smarter, secure and easier to use. So far, the responses have been extremely positive.
Here, then we take a look at some of those new features.
Confidential Mode
The most significant is the new Confidential Mode feature which will significantly improve security and privacy issues. Going some way to alleviate our fears of phishing attacks from suspect attachments in email.
The Confidential Mode brings in extra layers of security to the emails and a bonus is that the Confidential Mode can work with emails involving non-Gmail users.
Among the new features are:
Self-destructing Emails: this lets you set a time limit on emails that expire from the recipients' inbox after a period you can specify or which you can revoke at any time even after sending them. This, Google said will minimise accidentally sending confidential emails. Helping you, say Google, to stay in control.
Un-Forwardable Emails: this allows users to open confidential emails in a special window that doesn't allow a recipient to forward, copy or print the email. Important if you need to send sensitive emails such as tax returns.
Two-factor Authentication (2FA) for Emails: with this feature you will be able to use 2FA for a single email. This means any recipient will need a passcode sent to them via SMS before they are able to open it.
Email snoozing: this feature enables you to snooze an email. If you have emails that require a lengthy response but cannot be answered immediately this allows you to hide it from your inbox and then pop-up at your own designated timetable.
This is already being offered by Google's Inbox mobile app, but Google has now extended it to all forms of Gmail.
Nudges: unlike the snooze feature the newly installed Nudge is for those unattended emails that Google's AI feels you should be reminded of.
Smart Replies: as well as reminding you of important emails the new Gmail will make suggestions for possible tasks that you may need to do, like replying to an email using Smart Replies.
Besides enhancing security and the use of AI, the new Gmail has features that can improve your productivity. For instance, Gmail will feature a sidebar to the right, which gives you quick access to a new version of Google Tasks.
This includes a pop-up version of Google Calendar, a note taking app and access to third-party services that use Gmail's add-on technology such as Asana, Dialpad and DocuSign.
Native Offline Mode: previously using Gmail offline required a third-party Chrome plugin. But now with the Progressive Web Apps, the built-in offline mode, you will be able to write responses to emails while, say on a flight, and then sync your inbox and send them once back online.
High-Priority Notifications: you will now get notifications for any incoming emails that Gmail thinks could be important to you. This will be based on certain factors such as how typically you respond to emails from a particular sender.
Inbox Enhancers: with this feature you will be able to take actions on an email without having to open it. You can also RSVP to calendar invitations and even snooze emails without opening them.
One-tap Unsubscribe Prompt: Gmail has had a feature for some time that allows users to unsubscribe from ads and other bulk email lists. But now Gmail will proactively ask you to unsubscribe from specific lists when it notices you aren't clicking on them.
Anti-phishing Enhancements: perhaps the most impressive of the new features Gmail has enhanced its warning system against dodgy emails. Also, if you get an email that purports to be from one of your contacts but actually comes from an unfamiliar source, Gmail will tell you something is wrong.
Long overdue but more than welcome getting the redesigned Gmail does currently depends on the type of Google account you have.
If you are a regular Gmail user, you can get the newly designed Gmail by clicking on the Settings icon in the top right-hand corner and selecting 'Try the new Gmail' option.
If you use the G Suite for work you can enable the new Gmail through the Early Adopter Program. Or through the administrator function you can use Google Admin console and opt-in to the new Gmail.
image source: flickr.com