How to get free Snapfish photo prints with Virgin
We all like getting something for nothing, that's a fact. So when Virgin offers you a sweetener that gets you 100 free 6×4 photo prints from Snapfish, that's good news, right?
The offer is open to all Virgin customers, both new and existing.
It's included as standard with all Virgin broadband contracts, so you don't have to activate the offer or write off to another company, you can do it all right here.
Who are Snapfish?
Snapfish are an online photo printing company founded in San Francisco in 1999. They have offices in the US, Canada, Germany, France, Australia, Italy, New Zealand and Ireland.
Snapfish's UK offices are based in Newton Abbot in South Devon and they have been in business since 2015.
Get snappy
So if you've got your broadband with Virgin and you've never heard of this offer, now's the time to take advantage.
There's no time-limit on the Snapfish free photo prints offer, so you can take it up at any time throughout the course of your contract with Virgin.
Normally Virgin broadband contracts last 12 months, and will be repeated for a further 12 months if you decide to stay with them.
If you've got family portraits, your favourite holiday snaps, nights out or things you've discovered that are just sitting on a hard drive somewhere, perhaps it's time to dig them out and show them off to the world.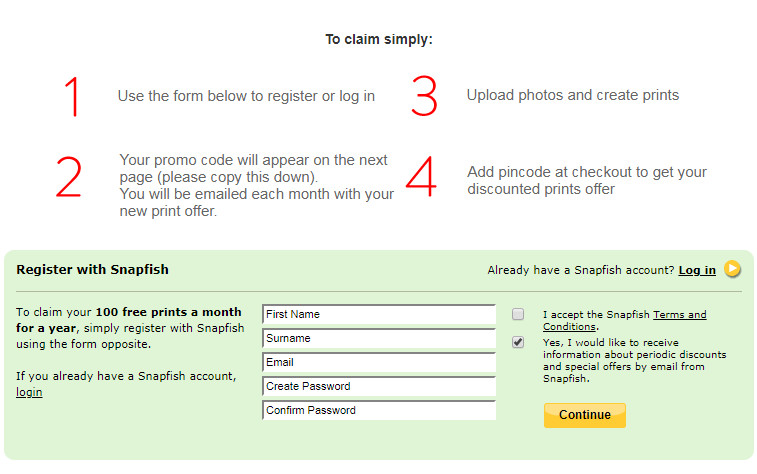 If you already have a Snapfish account
Go to the Snapfish and Virgin Media offer page
Use the form on this page to log in to your Snapfish account
Choose or edit the photos you want to print
You will pay a £3.99 delivery cost on each batch of photos
Snapfish will deliver the prints to your door
If you don't already have a Snapfish account
Head over to the Snapfish and Virgin Media offer page
Write in your name, email address and a password to set up a new Snapfish account
To complete the deal you will need you Virgin account number. You can find your Virgin account number through your My Virgin Media account page and it should also appear on any paper or online bills or official correspondence you've had from Virgin.
On the following page, make note of your offer code
You'll get an email from Snapfish telling you how to proceed, giving you a link to a page where you can upload your photos
Use the offer code at checkout to get your free prints
You pay £3.99 delivery cost on each set of photos
Virgin has its own explanation page here, if you need more info.
See all the latest Virgin deals here