Old anti-piracy site snaps £2 million in public funding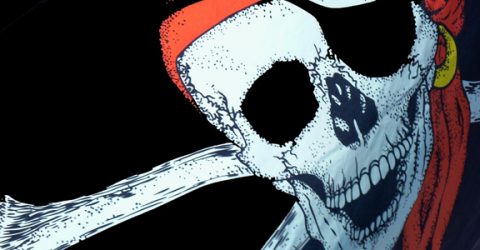 As part of a £20m grant to 'boost' to the UK's creative industries, Government has seen fit to grant £2 million to a 2015 anti-piracy campaign.
The "Get it Right from a Genuine Site" campaign is an 'educational' effort from Creative Content UK (CCUK), which aims to "support UK creativity" by shepherding users away from piracy sites and towards "genuine" entertainment platforms.
Core to the campaign's efforts is a voluntary partnership with major ISPs to deliver 'Voluntary Copyright Alerts' to customers caught downloading pirated peer-to-peer files. These alerts are emailed to offending customers to advise them of legal alternatives to peer-to-peer sharing.  They also contain an 'educational' reminder of the precise content that's been pirated, and the time and date it was accessed from your IP address.
Creative industries collectively generate £100bn for the UK's economy, and this boost is expected to help maintain a "pipeline of talent" for the sector, says Margot James, Minister for Digital and the Creative Industries.
So, with £5.5 million of public funding behind it, how much good is 'Get it Right…' really doing for the sector?
The "What we're doing" page of the campaign website (getitrightfromagenuinsite.org) reveals that the majority of efforts are spent partnering with various YouTube creators for Twitter competitions.
Prizes have been either £100 in Amazon, HMV, or book vouchers, but the competition has always been the same – to post #GetItRightcomp on Instagram or Twitter with the amount of time you spend "creating or consuming creative content".
Money well spent?
Clearly aimed at younger internet users, these competitions ended in June 2017, and there has been no evidence of any further campaigning posted to the website. However, with £2m of extra funding, perhaps we can expect further YouTube collaborations for the project.
The real irony here is that YouTube creators and producers are frequently the victim of bad anti-piracy measures and suffer regular, unjust copyright claims from major media outlets. In response to this, and YouTube 'demonetizing' inappropriate content, many creators have turned to merchandising, direct sponsorship deals, or even public boxing matches to generate revenue outside of their "genuine site".
Even worse – small, independent creators, like those 'Get it right…' are posing beside, are genuinely affected by piracy – just not a type that the campaign acknowledges anywhere on their website. Video 'freebooters' take content from creators and then repost it back on "genuine sites", namely Facebook, Instagram, and YouTube, in order to siphon off views and generate ad revenue.
The truth is that the young creative talent 'Get it right…' is branding themselves with aren't the ones that the campaign is helping, if it's helping anyone at all. The effectiveness of spooking a few users with passive-aggressive 'alert' emails, or handing out vouchers in a handful Twitter contests, is seriously doubtful.