Top 5 no-contract broadband deals in March 2017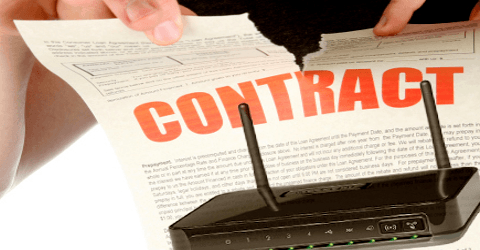 No-contract broadband deals are on the rise and we've scoured the net to get you the best possible package for your hard-earned cash.
Ofcom's latest figures show that over 80 per cent of UK adults have some form of broadband at home.
But while the industry giants like BT, TalkTalk and Sky still have a stranglehold on the market, smaller providers are popping up to grab a slice of the action.
Why consider no-contract broadband?
You know that sinking feeling when you spot a better deal that the one you're on? Then you realise you're locked into another eight or nine months with your current provider? Not any more.
These flexible 30-day rolling contracts mean you can switch to a better deal when one comes along.
The downside is that providers may make you pay a more expensive activation fee or installation charge.
But there's also usually no credit check with short-term, no-contract broadband.
So here are the five best no-contract broadband deals on the market in March 2017.
Now TV – the best no-contract broadband with Sky TV
The Sky-owned upstart was launched in 2012 and offers Sky TV and broadband packages rolled together in one tidy deal.
If you need a no-contract broadband deal together with entertainment TV then NowTV's packages are worth serious consideration.
There's a £44 activation fee included in all three main deals: Brilliant Broadband, Fab Fibre and Super Fibre.
You can also add calls on top of these deals: Evening and Weekend Calls costs you an extra £4 a month, while Anytime Calls will add £8 a month to your package.
Brilliant Broadband with Now Entertainment TV
NowTV's cheapest deal offers up to 17Mbps with unlimited downloads, line rental at £17.99 a month and TV package costs of £6.99 a month.
You pay £24.99 a month and along with your broadband you get Now TV's Entertainment Month Pass, which gives you access to all the top shows across 13 channels not available on Freeview. They are: Fox, Sky Atlantic, Sky 1, Sky Living, ABC, MTV, Sky Arts, UK Gold, Comedy Central, Discovery Channel, Nat Geo Wild (National Geographic), Viceland and ITV Encore.
On top of that you get access to over 250 box sets of everything from Criminal Minds to classic episodes of Gavin & Stacey
The great thing about NowTV deals is that you can watch all these shows across 60 devices, from PS4 to iPhone, tablet and home PC or Mac.
Get the Now TV Brilliant Broadband deal
NowTV Fab Fibre pushes your broadband speeds up to a healthy 38Mbps, while their fastest broadband package Super Fibre still gives you all the Sky TV bonuses with broadband speed of 76Mbps.
Error: No such provider found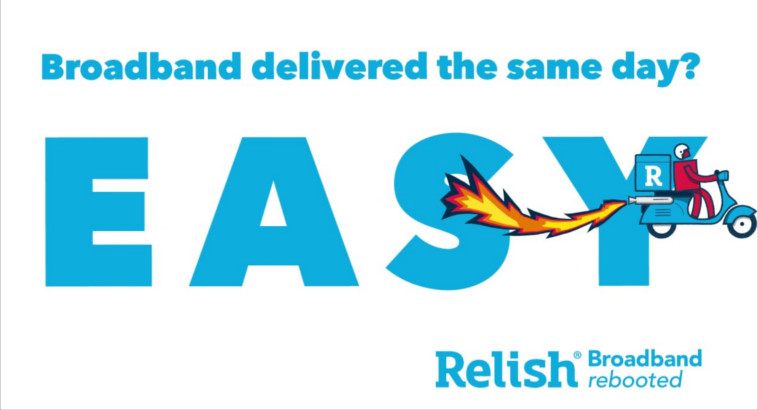 Relish – the best no-contract broadband deals for Londoners
You may not have heard of them, but Relish are focused entirely on providing one-month rolling broadband to homes and businesses in central London and Swindon.
Their 'Broadband Rebooted' strategy offers unlimited data without saddling you with a landline phone line you never use.
It provides high-speed internet using 4G, removing the need for a fixed broadband line.
Unfortunately for the rest of us, their reach is limited to capital and the south-east.
Relish told BroadbandDeals.co.uk that for now, their priorities for expanding the service extend to highly-populated areas of central London.
On Relish's homepage you can vote for them to provide broadband deals in your area but if you're not a Southerner that's about your best option at the moment.
UK mobile operator Three bought out Relish's parent company UK Broadband in February 2017 for a tidy £250m.
Relish Home Unlimited
With Relish Home Unlimited you get unlimited usage for £25 a month. They promise download speeds of "24Mbps and up". Unfortunately there's a rather hefty £199 up-front charge for those living in Swindon, where installation should come within five working days. They promise Londoners can get broadband installed the same day for £20, or free for next-day delivery. If you're after a monthly contract in London, the up-front cost is £50, otherwise for you no-contracters it's free.
As this is a 4G service there's no need for a phone line, so there aren't any line rental charges with Relish.
Like most contracts it comes with a whole host of small print and boring legal bits. Luckily for you, we've scoured them ourselves and done all the legwork for you.
14-day money back guarantee
You can cancel within 14 days if you're not happy with Relish Home Unlimited. You have to send back any equipment provided to you in its original packaging, including any supplied SIM cards, leads or accessories. If any of this stuff is damaged, or you don't meet the 14-day limit, you may get charged.
Relish provide you with a pre-paid returns bag so you can return their bits and pieces to them at no cost.
Check out all the Relish broadband deals on their website.
Plusnet – the best no-contract broadband deals for ease of use
Everyone's favourite Yorkshire-based broadband provider Plusnet offer you unlimited downloads with no annual contract for £22.99 a month.
This includes a broadband fee of £5 a month and line rental of £17.99 a month. So you do get a phone line installed.
Plusnet use BT lines for its network, so if you want to cancel your contract and you're not moving to another provider who use BT, you'll have to pay a £30 fee.
If you cancel the contract early there are other fees to watch out for: If you've got broadband only and you cancel, there's a £10.94 charge; for broadband and phone deals there'll be a £9.87 fee.
Plusnet Unlimited
Plusnet Unlimited is the only no-contract broadband deal the provider offers.
For the first 12 months the price is £22.99. That's a line rental cost of £17.99 a month with a £5 a month cost for broadband. If you stay with Plusnet after that initial 12 months the price goes up to £30.48 a month. There's also a £50 activation fee. For this you get a wireless router with speeds of up to 17Mbps with unlimited data usage. You can also add Evening and Weekend Calls for £4 a month, or Anytime Calls for an extra £8 a month.
Get Plusnet Unlimited broadband here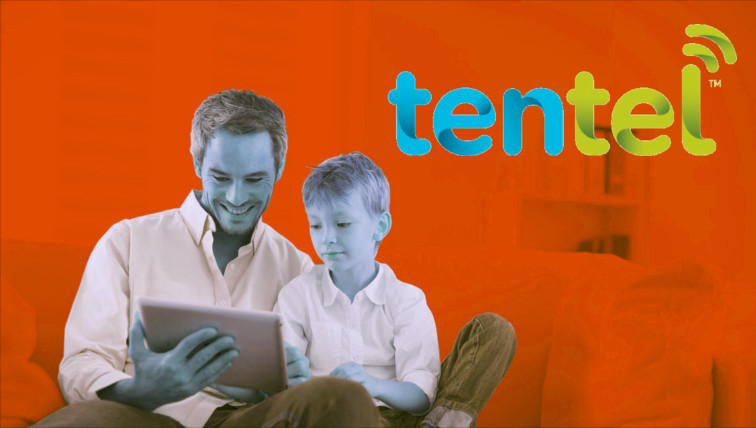 Tentel – the best no-contract broadband deals for limited use
TenTel produce broadband deals aimed at students and short-term tenants and renters – focusing on people who don't stay in the same place for any length of time.
The Edinburgh-based ISP have been in the market since 2013, and have three main no-contract, 30-day rolling deals on offer.
The benefit with TenTel is that you can also cancel or leave your contract with no cancellation fees – be wary though, this only applies to 30-day no-contract deals; if you take one of TenTel's six or 12-month options you can't ditch your contract without a cancellation fee.
They've got an easy pricing structure if you want to add any calls to these plans, just take a peek at what's on offer below.
All Tentel deals include a £35 activation fee.
Tentel Hello Broadband 5GB
Tentel's cheapest broadband deal is the Hello Broadband 5GB. For £18.99 a month you get 5GB of downloads with speeds up to 17Mbps. Any phone calls you make on this deal are on a pay as you go basis.
You can add a number of call plans for a little extra a month. £2.50 gets you 60 minutes of calls,
£4 adds 100 minutes to your plan, £6 gives you 200 minutes, or for unlimited calls you'll add an extra £7.50 a month.
Get the Tentel Hello Broadband 5GB deal
Tentel Hello Broadband 40GB
For more prolific downloaders or those who want to stream video from Netflix or Amazon Prime, this deal gives you 40GB of data usage a month for £19.49.
All the same call costs in the Hello Broadband 5GB deal apply here, so just watch out that if you're going to be using your Tentel phone line it'll be pay as you go, unless you add on 60, 100, 200 or unlimited minutes for £2.50, £4, £6 or £7.50 extra a month.
Get the Tentel Hello Broadband 40GB deal
Tentel Hello Broadband Unlimited
Tentel's costliest broadband deal at £22.49 a month gives you unlimited downloads but there's no bump in speed – you'll still be limited to that 'up to 17Mbps' standard.
All the above call plan details stay the same.
Still, it's one of the cheaper unlimited no-contract broadband deals on the UK market at the moment.
Get the Tentel Hello Broadband Unlimited deal

Virgin Media – best no-contract broadband deals for speed demons
Much later onto the market than other, smaller providers, Virgin Media started selling no-contract broadband deals on Wednesday 1 March 2017.
Virgin have access to much faster (in theory, anyway) fibre broadband packages than any of the other providers in this list.
From the end of March 2017 they're also boosting the standard speed of their cheapest broadband to a minimum 100Mbps.
So if you're a gamer or you want to stream a ton of HD video at the same time as keeping your options open, Virgin's range of no-contract broadband deals are seriously worth considering.
Just like the others in this list, you can add phone calls if you need them. That'll cost you an extra £7.75 a month on top of your broadband deal.
VIVID 100 solus is now Virgin's entry-level package: for £32.25 a month you get 100Mbps downloads and 12Mbps uploads.
VIVID 200 solus pushes that up to 200Mbps downloads/16Mpbs uploads for £37.25 a month.
The popular Virgin VIVID 200 Gamer promises 200Mbps downloads with 20Mpbs uploads for £42.25 a month.
Finally, the ultrafast VIVID 300 solus gives you 300Mbps downloads/20Mbps uploads for £47.25 a month.
Compare all Virgin no-contract broadband deals
So these are our picks for the best no-contract broadband deals on the market right now.
Get started saving money and see what deals you can get in your area