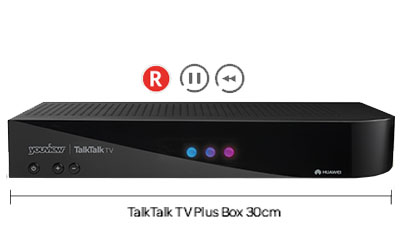 Pause/RW Live TV:

Yes

Record Live TV:

Yes

Disk Capacity:

300GB

4K / UltraHD:

No

On-Demand:

Yes
Connecting your box to your router will let you rent and enjoy the latest film and TV releases from More TV without having to leave the comfort of your living room. You can rent any film on the list for 48hrs at a time that suits you. You'll also have access to Netflix (subscription required) and other TV-On-Demand apps on your TalkTalk TV Box.
News

What's the story?

Keep up with the latest developments in UK broadband.
Help

Learn with us

Make the most of the internet with our broadband library.
Back To Top