Who are we?
BroadbandDeals.co.uk started way back in 2009 offering a free online service to compare internet service providers. A lot's changed since then.
Our parent company Bonus Media Ltd took over the site in 2016 and helped us grow in stature and popularity to become one of the leading broadband comparison sites in the UK.
How did we do it?
We know there's a lot more to buying broadband than just thinking about price.
When you're choosing broadband there are loads of options to consider and not a lot of them are straightforward. Despite all the changes in the industry with the oversight of the regulator Ofcom, many providers simply aren't up front about contract prices, hidden charges or price rises.
We want to make you the best-informed you can be, so you'll find a deal you're happy with.
That's why we keep up to date with the latest news affecting customers, as well as running regular how-to guides, and FAQs to make sure you can get the most out of your broadband.
We build our own comparison engines in-house and they are great at helping people sort out what they really want.
Our customers tell us that they love how easy it is to use BroadbandDeals.co.uk and how they can find out the true cost of a broadband deal, whether that's the cheapest basic deal to get them online, or an all-singing, all-dancing fast fibre package.
We've helped thousands of people all over the country find the deal that really suits them.
How we make money
We believe in being honest and upfront about what we're getting out of the bargain. Every time a broadband deal is bought through this website, the provider pays BroadbandDeals.co.uk a small commission fee.
This does not and will never increase the cost of any of the deals you see on BroadbandDeals.co.uk.
No charges or costs are added on, so you'll never pay more by using BroadbandDeals.co.uk.
Sometimes we will run adverts throughout the site but never within our comparison tables and every advert will be clearly labelled.
Ofcom accredited price comparison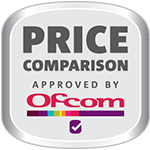 BroadbandDeals.co.uk is proud to have been accredited by Ofcom, the communications industry regulator.
According to Ofcom, "consumers can be confident that [BroadbandDeals.co.uk] price comparison service provides information that is accurate and thorough."
BroadbandDeals.co.uk does not manipulate or alter search results to favour any one particular provider.
As standard, results are presented by the lowest average monthly price.
Using our filter system you can change how results are displayed depending on what is most helpful to you: by broadband speed, popularity, unlimited data, calls or TV add-ons, the average first year cost or contract length.
We update daily our information on prices and availability, based on research by humans, not computers.
We manually scour the market to update BroadbandDeals.co.uk daily with any new upgrades, price changes, add-ons or packages, to ensure our results are comprehensive and accurate.
Occasionally providers may update us directly with changes to their offers. We do seek to cover the whole market but there may be times when a provider cannot be included in our search results.
We do not include legacy tariffs.
At present we do not include any deals which are only available to existing customers, though we hope to include these in the near future.
Sorting deals by 'Fastest' will give you the fastest download speeds advertised on the site within your filters.
Sorting by 'Most popular' is based on number of click a deal receives in the previous 7 days and is updated automatically.
Our calculations and results do not include call plans or add-on options for calls to international numbers or mobile numbers.
Where call plans are provided, these are limited to calls within the UK and to landlines. For more information refer to the call plan description by the provider.
Any out of bundle charges such as call charges or data used beyond the allowance are excluded from the advertised prices and comparison calculations.
Sometimes due to factors outside our control deals may remain on the website after they are available. We take great care to ensure this does not happen but very occasionally one may slip through. If you see a deal presented on our website that is no longer available please let us know to editor@deals.co.uk.
Featured providers
Below is an list of every provider currently available on BroadbandDeals.co.uk, across Home, Mobile and Business.
While this list may not contrain every provider currently selling broadband deals in the UK, these providers represent who we believe to be the most reliable sellers available to consumers.
For customers in Hull, please read our page on Broadband availability in Hull & East Riding.
Meet the team
You can see all of our Editorial staff here, along with their contact information. Don't be shy – we love hearing from people!
Editorial Code of Ethics
The editorial and commercial teams at BroadbandDeals.co.uk are entirely separate, so you can be confident that any article, guide, FAQ or news story has been produced as far as possible without bias and with the sole intent to inform and update our readers.
BroadbandDeals.co.uk is committed to providing accurate, informative and journalistically sound content that is impartial and fair.
About BroadbandDeals.co.uk
BroadbandDeals.co.uk is operated and owned by Bonus Media Ltd, an independent online media company.
Bonus Media Ltd
The Media Centre
7 Northumberland St
Huddersfield
West Yorkshire
HD1 1RL
Company Registration No: 8035191
VAT No: GB 178 329179
Email: info@deals.co.uk
Bonus Media Ltd is committed to equal opportunities and to fulfilling our obligations under the Equality Act 2010.
Please send any press releases, requests or article/guide suggestions to news@deals.co.uk. If you're interested in advertising, sponsorship or partnering up, please contact info@deals.co.uk.

BroadbandDeals.co.uk is a member of the Internet Services Providers' Association (ISPA UK).