Antivirus software – How to secure your devices
Antiviruses represent a last line of defence against malware, but they vary considerably in performance and effectiveness.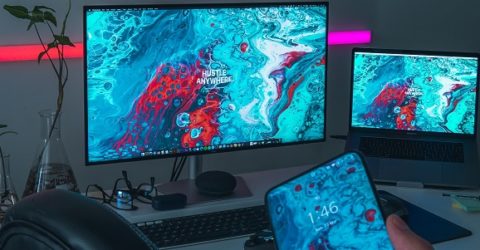 Antivirus software is rather like insurance. You probably won't need it, but you'll be glad it's there if something goes wrong.
And while antiviruses can be caught out, they do a good job of providing a final buttress against the endlessly mutating array of threats circulating in cyberspace.
Below, we review five leading antivirus software tools, analysing what these utilities do and how they protect our devices. There's a wide range of deals on antiviruses available, so it pays to be informed!
But first, let's consider what they're protecting us against.
A clear and present danger
Despite the name, antiviruses protect any device they're installed on against a variety of threats collectively known as malware.
Viruses were the first – and remain the best-known – form of malware. However, these malicious pieces of program code have a number of relatives:
How might I be exposed to malware?

There are many ways:
You might receive an email with an infected attachment. If it's a virus, you'd have to open the attachment to activate it; a worm could spread once it reaches your inbox.
You might visit a website hosting compromised content. Websites ending in top level domains (TLDs) like .surf, .ru and .cam are notorious for being malware repositories.
A rogue agent could compromise your internet connection, most commonly by accessing your broadband router's administrator settings.
Owners of a rooted or jailbroken smartphone are at risk of installing compromised software, since unofficial apps won't be subjected to the usual app store scrutiny.
Software vulnerabilities may be susceptible to hackers and criminals who've discovered flaws in the security of programs, apps, utilities and even operating systems.
What are the criminals after?
The most common answer is money.
Social engineering fraud involves acquiring passwords, which criminals can use to impersonate someone as they purchase goods or services in their name.
This is a big issue now our phones are auxiliary payment methods. Obtain a six-figure handset passcode, and a thief could use contactless payments and in-app checkout gateways.
Saved payment details provide a shortcut to fraud and theft, with high-value purchases often being made before the victim realises their account or payment method has been compromised.
Cryptocurrencies have experienced endemic theft from the digital wallets used to store them, but traditional bank accounts may also be accessed and plundered.
What protection do I receive by default?
Quite a lot, as it happens.
Your email provider will typically snare 99 per cent of spam and junk mail sent to your address, using sophisticated algorithms to ensure only legitimate messages get through.
Similarly, domestic broadband ISPs employ an array of filters and tools to prevent compromised data arriving at home routers.
GuideHow to check if your Antivirus is working
You won't necessarily realise DDoS attacks are taking place against your ISP's servers, or that Trojans are being sent to your email account, because it's being blocked en route.
Smartphones are relatively well-protected against malware by the walled-garden nature of their app stores, and modern desktop PCs come with the excellent Windows Defender.
Historically, Windows computers were the main focus of malware. The Defender firewall baked into Windows 10 could provide all the protection you'll ever need.
Even so, some consumers will favour the more granular control and visible presence of dedicated antivirus software.
And modern software has come a long way from the rather basic virus protection tools of old…
What does antivirus software do?
Going back to our insurance analogy, antivirus software sits quietly in the background until it's called upon to intervene.
It scans incoming data against a comprehensive roster of known threats. This is constantly being updated as new malware emerges.
(When malware begins attacking devices on the day it's launched, this is known as a zero-day attack. It's why antivirus software updates should always be allowed to take place).
The software looks for known threats – attachments, keywords in emails, chunks of program code, etc – and blocks them at source.
If a piece of malware does land on your device, the antivirus software will try to expunge it.
It will also protect against intrusive cookies and tracking tools, warn you about websites which aren't https secure, and even clear space by removing unused files.
The latter services are optional, and you can adjust settings to suit your preferences. It shouldn't delete anything valuable without your permission and approval.
Market-leading antivirus software tools
If the above has convinced you antivirus software is worth investing in, these are some of the companies whose products will protect multiple devices from a variety of threats…
Bitdefender
Romania may not be the first country you'd think of as a market leader in antivirus software, but Bitdefender's software regularly tops the list of products reviewed by tech websites.
It combines affordability with comprehensive multi-device security, ranging from web protection to the SafePay online banking suite and a password manager.
Even the basic package includes a VPN, which is ideal for distributing confidential data across insecure networks – sending work-related emails in a coffee shop, for instance.
Kaspersky
It might also surprise you to see a Russian product on our list, given Russia's unenviable contribution to global spam levels and cybercrime statistics.
Kaspersky is highly regarded for its robust protection against viruses and ransomware. Even if files are compromised, it can often claw them back to safety.
Higher-end packages include an intelligent firewall and a secure web browser, parental controls and a password manager, automated backups and a VPN.
McAfee
If you're not bothered about services like anti-theft protection, McAfee's range of antivirus software solutions make a lot of sense.
McAfee's main drawback is the impact it has on processor resources, though you can dial down the level of impact/interference (delete as appropriate) in its extensive settings menus.
There are dedicated packages for gamers, and homes requiring multiple device protection will welcome the multi-licence options. High-end subscriptions include unlimited VPN use.
Norton
Norton's nine-product suite requires some navigation compared to rivals, while it lacks certain services offered by competitors like file encryption.
On the flipside, it improves on other antivirus software products by including extensive online storage, webcam protection and unlimited use of a VPN.
Every subscription provides effective and comprehensive protection against all forms of malware, while even the mid-tier 360 Deluxe includes a password manager and parental controls.
Ready to get protected? You can discover all the best deals on Antivirus services at AntiViruses.co.uk.