Is Sky broadband any good?
We have reviews and ratings from 31 verified customers of Sky broadband.
We surveyed new customers 60 to 120 days after switching to Sky - here's what they told us:
Switch was simple, service efficient and I'm very happy I changed. Definitely should have switched years ago. It's far more reliable than my old provider.

The new connection is faster and more reliable. It's more expensive than my previous provider, but I need the increased speed. I honestly don't know what else to say.. I'm happy

I really appreciated how fast and easy set up was. The speed is great and effecient. I'm glad we switched to sky - great value for money. Customer service has been very helpful from switch over and any ongoing issues. They have helped greatly. Our speed and connection dips sometimes during the day but I haven't been able to pinpoint a common time.
On average, people switching to Sky saved around £3.56 per month, and rated their Sky broadband 8.3/10.
New customers told us that they waited around less than 2 weeks between ordering and getting set up with Sky.
To read more about what customers think of Sky's broadband deals, check out our Sky reviews page for 28 more reviews and in-depth ratings data.
---
Everything you need to know about Sky Broadband
Sky Broadband uses its own network (acquired from Easynet in 2005) as well as the Openreach network, giving them some of the widest coverage at 99% of UK households. They launched super-fast fibre services in 2012, and in 2013 became the second-largest provider of fixed broadband in the UK after buying O2 and BE broadband.
Sky has been providing premium TV sports, movies and entertainment since the early 1990s and is the most popular cable and satellite TV supplier. They now offer a wide selection of on-demand content, allowing users to choose custom packages and binge on boxsets to their hearts' content.
---
What can you get?
Standard broadband
Fibre
Call Packages
Mobile
Essential Broadband
Unlimited standard (ADSL) broadband with average download speeds of around 11Mbps.
Superfast Broadband
Sky offer a single tier of fibre deals, unlike most providers. Superfast gives you average speeds of 59Mbps and unlimited downloads.
Call Packages
Sky Talk: calls charged at standard rate, available as standard with your Sky Broadband package: Calls to UK landlines charged at 15.5p/min. UK Mobiles 18p/min evening + weekend, 19.35p/min daytime.
Sky Talk Evenings and Weekends Extra: Inclusive evening and weekend calls to UK landlines, mobiles, 0845 and 0870 numbers.
Monday – Friday, 7pm to 7am, plus all day Saturday and Sunday.
Max duration 1 hour, hang up and redial to avoid charges
Sky Talk Anytime Extra: Inclusive anytime calls to UK landlines, mobiles, 0845 and 0870 numbers.
Max duration 1 hour, hang up and redial to avoid charges
Sky Talk International Extra: Inclusive international geographic landline calls to Australia, Austria, Bangladesh, Belgium, Brazil, Bulgaria, Canada, Canary Islands, China, Croatia, Cyprus, Czech Republic, Denmark, Estonia, Finland, France, Germany, Gibraltar, Greece, Hong Kong, Hungary, India, Irish Republic, Israel, Italy, Jamaica, Japan, Latvia, Lithuania, Luxembourg, Madeira, Malaysia, Netherlands, New Zealand, Norway, Pakistan, Poland, Portugal, Romania, Russian Federation, Singapore, Slovak Republic, Slovenia, South Africa, Spain, Sweden, Switzerland, Thailand, Turkey, USA (also includes calls to mobiles in Canada, Hong Kong and USA).
TV Packages
Sky offers a huge variety of customisable Sky TV and broadband bundles. Packages come with an 18 month minimum contract.
Sky Entertainment:This is the basic Sky TV service which allows you to add extras on top. It offers over 300 channels, including Sky One, Sky Atlantic, Discovery, Comedy Central and MTV.
Kids Pack:Includes the Disney Channel, Nickelodeon and Cartoon Network.
HD Pack:All your favourite channels in full high definition.
Sky Cinema:Huge selection of the latest movies and old favourites.
Ultimate On Demand: With over 500 boxsets, and includes a Netflix subscription.
Sky Sports:Live action including Premiership Football and world class cricket, golf and F1.
Sky also offers access to BT sports directly (you can get a subscription through your Sky account without a separate BT account).
All Sky TV packages include Sky Go, which allows you to watch live TV as well as catch-up and on demand, on your phone, tablet, or computer.
You must return Sky Q equipment on time if you're cancelling or switching away from Sky, otherwise you could be charged between £30 and £140 depending on the box.
Sky Mobile
SIM only deals are available with between 1GB and 50GB data per month, including unlimited calls and texts.
---
Hardware and Technology
Sky Broadband Hubs
All Sky Broadband packages come with the Sky Hub router as standard, which scans for the best wireless channel for a stable connection at the best possible speed. The hub has a low energy consumption mode and Sky Broadband Shield which blocks known malicious websites and has customisable parental controls.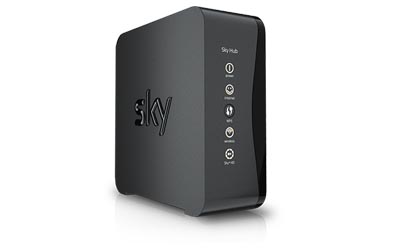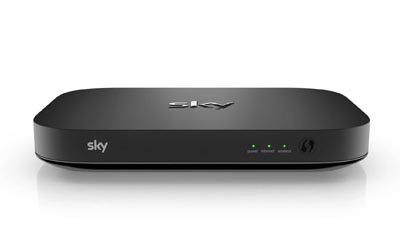 If you take a TV bundle you can choose the Sky Q hub to turn your Q TV boxes into wifi hotspots to boost your signal. The Sky Q Hub comes with dual-band connections and Powerline tech to take advantage of your home electrical connections.
Sky Q Boxes
Sky set-top boxes are available in three sizes; 1TB, 2TB and Mini.
Sky Q 1TB: Record up to 500 hours of standard definition TV, watch up to two TVs and one device at the same time, and record up to three channels at the same time.
Sky Q 2TB: Record up to 1000 hours of standard definition TV, watch up to three TVs and 2 devices at the same time, and record up to 6 channels at the same time.
Sky Q Mini: Extra boxes you can stream the content available from your main box to another TV in your household.
---
Why choose Sky Broadband?
The Good, the Bad and the Ugly
The Good
Fast speeds, highly reliable
Good customer service/complaints handling
Unlimited downloads on all broadband packages
Widely available – uses openreach network as well as their own
Quadplay available (including mobile)
No download caps or throttling
The Bad
No broadband-only packages
Limited fibre availability
Sky broadband is not generally the cheapest on the market but it really shines if you want to bundle broadband together with the latest entertainment TV and sports and there are few better options for premium coverage.
Sky has a VIP loyalty programme for new and returning customers, offering free tickets, exclusive TV previews and regular free prize draws. Your VIP tier is based on how long you've been a Sky customer – new customers start at Silver tier, with three further tiers of offers available to long term customers.
Sky customers benefit from unlimited free Wi-Fi at public hotspots through The Cloud.
Customer Service
According to the most recent quality of service report published by Ofcom, Sky has an overall 83% customer satisfaction rating which is fairly average – but this includes a significantly lower than average percentage of customers who complain, and significantly higher than average satisfaction with how complaints are handled.
Sky's online help is superb, with plenty of great guides and a community forum. You can contact Sky customer service via Facebook Messenger, text message, or call them on 0333 7591 018. New customers can call our dedicated order line on 0203 092 5366.
---
Frequently asked questions
Are there any hidden costs?

▼

Some providers charge a fee for hardware, activation, or postage and packaging when sending you a router – but we include all these charges in 'Setup Costs' so you can see them upfront. Line rental is also included in the monthly costs.

If you don't have an existing line, some providers will charge for installation as this requires an engineer to visit. We're working on including this in our listings – for now please check the provider's website.

We don't include any out-of-bundle charges such as calls, because they depend on how much you use the phone. It might be worth getting a calls package if you use the landline a lot.

Some ISPs will charge admin fees if you're not able to pay by direct debit.

Can I get broadband without a landline?

▼

It's possible, but most broadband comes through landlines in the final stretch from the street cabinet to your door. Most deals include line rental in the cost.

If you don't have an existing line, some (but not all) providers will charge to install one.

The exceptions are Virgin Media and the new FTTP providers, where the fibre-optic cable comes all the way to your property. Some providers (including Plusnet) will allow you to get your landline from another provider and just charge for broadband, but it's likely to be more expensive overall. So – most of us will need a landline – but of course you don't have to use it for calls.

Can I keep my email address when I switch broadband?

▼

If you're still using an email address from your internet provider (e.g. JoBloggs@talktalk.net) then this can be difficult to move.  It's possible with some providers, but not all, and they may charge you to keep using your old address after you switch.

We strongly recommend moving to a different email provider than your ISP  – there are plenty of great free options, such as Gmail, Outlook.com or Yahoo Mail – or you could consider upgrading to your own domain name for a few pounds a year.

Changing email address can be a real hassle, but if you don't want to be shackled to one ISP for life, sooner or later you'll have to bite the bullet. You'll have to let people know and update your address with any services you want to keep, but on the plus side, it's an opportunity to cut all that annoying spam out of your life!

Can I keep my old phone number when I move house?

▼

THIS IS INCORRECT -BEN

Usually when you move home you will not be able to keep your old phone number.

The only exception is if you're moving to a new home within the same telephone exchange area.

Keeping your number in this case isn't always guaranteed, but most telephone and broadband providers will be happy to help whenever it is possible.

There are over 5,500 telephone exchanges in the UK.

If you are moving to a different telephone exchange area, then your home phone number will almost certainly have to change.

Residential phone numbers in the UK are tied to physical locations through area codes, so your phone number has to reflect the area that you live in.

Can I keep my old router?

▼

The short answer is: it depends. Most internet providers own the router so when you upgrade or switch to a different ISP they will ask you to return it.

If you've bought your own router, and it's compatible with the broadband you're buying, no problem.

But if you didn't buy it, it belongs to your previous internet provider.

If it is fairly old technology it's less likely they'll bother asking for it back. Still, if you're upgrading to fibre broadband, your old router may not work anyway.

It's worth remembering to read the letter you receive with your new router. They may still demand it back and include the shipping labels required.
Not sure if Sky is right for you? Have a look at what else you could get with our best broadband deals and compare before you order.
---