Moving House? How to sort out your broadband
Follow our guide to move broadband to a new address without all the stress!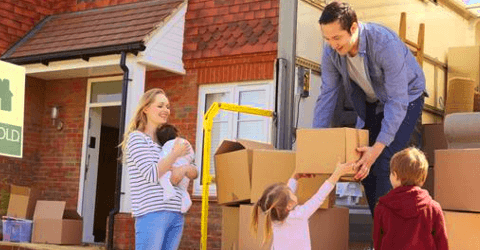 There's a million things to think about when moving home, and being stuck without broadband in your new place is almost as bad as being without power or heating.
Moving your broadband along with your home can throw up a lot of questions, so here in this guide we've got answers to everything, big and small, to make sure you can move your broadband with the least amount of stress possible.
Read on to learn more about the moving process, or jump to specific advice from your provider using the links below.
---
Can I move my broadband to my new address?
The first step to moving your broadband is to check the availability at your new address. The vast majority of customers will be able to move their current broadband contract to a new address when moving house.
You may be unable to transfer your contract to a new address if you're on a 'superfast' connection – which includes cable broadband, fibre-optic or fibre broadband – or are with a smaller ISP who don't provide broadband nationwide.
If your current Internet Service Provider (ISP) doesn't operate in the area you're moving to, then you're going to have to cancel your contract and sign up with a new provider.
HelpWhat's the best broadband deal in my area?
Because broadband speed differs depending on how close you are to one of those green cabinets you see dotted around in the streets, you may have to downgrade your contract to a slower-speed broadband when you move, even if your ISP still operates in that area.
The easiest way to find out if you'll need to switch or downgrade is to enter the postcode of the area you're moving to into our handy price comparison tool and see what's available.
If you can see deals from your ISP offering the same speed you're currently on, then you probably won't need to change a thing.
On the other hand, you may be able to upgrade your broadband to a higher speed if you're moving to an area with better connections available.
---
Moving home: Who do I need to tell?
Whether you're moving your contract or cancelling it, your first point of contact should be your current provider.
A lot of the major ISPs, including Virgin Media, BT and Sky, have a Moving Home service that can be accessed from your online account. From that page you can check on your options when moving, see any applicable fees, and arrange the move entirely from there.
The majority of ISPs also have dedicated FAQ pages where you can check notice periods and potential fees associated with moving your home broadband, even if you don't have access to an online account.
If your ISP doesn't have an online service, you can also call their customer service line and ask them about moving house.
Either way, you're going to need the following information before you begin:
Your account details (account number, login info, postcode, etc.)
The address of the house you're moving to
The date you're going to move
If you're happy and able to switch your current ISP to a new address, you can sort out your move there and then.
If your new address is already fully connected you should be online the same day that you move, otherwise an engineer will need to be sent out to connect the property. This will usually take less than a week, though many ISPs will advise that an engineer visit could take up to two weeks.
How much notice do I need to give?
Different ISPs need different amounts of notice before you move house. As a rule, the sooner you tell your ISP, the more likely you are to have a smooth switch.
If you don't give enough notice, you'll be stuck at your new address without broadband and potentially a pretty long wait until it gets sorted it out. Make sure you check with your ISP to find out the exact amount of notice you should give them.
MoreWhen to start looking to switch broadband
Do I keep the same router?
If you're not switching providers, you can continue using the same router at your new address. Most ISPs will charge you to send out a replacement router, so be sure not to leave it behind when you're packing.
If you're moving to a bigger house, you could find a problem with the WiFi range on your router. Finding a good location for your router, away from electrical appliances like a fridge or microwave, can help to make the most of the WiFi range in your new home.
---
What else do I need to know?
Below are some very important things to keep in mind when you're sorting out how to move your broadband.
Some ISPs offer free installations when moving address, while others may charge you. Be on the lookout for any hidden costs when changing address.
If you can't or don't want to move your contract to your new address, you will usually have to pay an early termination fee – this is generally based on the monthly amount you pay and how many months are left in the minimum term of your contract.
If you make any changes to the services you subscribe to, for instance by upgrading to fibre or adding television services, then you will almost definitely have to sign on to a new minimum term contract.
MoreHow long does it take to get broadband installed
If you have less than three months left on your contract, some ISPs will insist you sign onto a new 12 or 18-month contract when you move, where others may allow you to keep your current contract terms but charge a hefty moving fee to do so.
Even if the internet speed written in your contract doesn't change when you move, expect different download, upload and browsing speeds. These speeds can go up or down and depend on the distance to your green street cabinet and telephone exchange, and how many other people are sharing the network.
If you successfully move your broadband to a new address, you'll continue paying the same monthly amounts until your minimum-term expires.
If your ISP is demanding you sign a new contract when you're moving home, or if you're worried about the actual speeds you'll be getting at your new address, it might be better not to move your broadband at all and instead switch to a new ISP.
You can check to find the best deals here, or check the latest Ofcom customer satisfaction survey to see which ISP is performing the best around your new address.
If you're happy with your current service and trust your ISP to continue delivering it to you, signing on to a brand new contract when you move isn't really a downside at all – and it definitely beats slipping into a 30 day rolling contract when your minimum term expires.
---
Find advice from my provider
We've collected information on moving house from many of the most popular ISPs – find yours below.