Get a better broadband deal from a trusted provider
Welcome to BroadbandDeals.co.uk, where you can compare more broadband deals than any other comparison site in the UK (we checked!).
Whether you're looking for a new broadband provider to get better service or to save money, we're here to help. Our comparison database offers the widest range of deals and is approved by Ofcom, so you can trust us to provide you with accurate and up-to-date information about broadband deals.
On this page, we'll share some tips on how to choose the best broadband deal, including advice about bundled broadband offers with TV and phone. We'll also share details about some of the providers available in the UK and explain the types of broadband available to you.
---
Why choose BroadbandDeals.co.uk?
We understand that finding the right broadband deal can be overwhelming. With so many options to choose from, it can be challenging to know where to start. That's why we've made it our mission to provide you with the widest range of deals in one easy-to-use website.
Widest range of broadband deals
We pride ourselves on offering the widest range of broadband deals available in the UK. Our website is regularly updated to ensure that you have access to the latest deals on the market.
We work with all the major providers, including BT, Virgin Media, Sky, and TalkTalk as well as smaller Full-Fibre broadband providers like Gigaclear and Hyperoptic, to ensure that we have a comprehensive range of deals to suit every budget and requirement.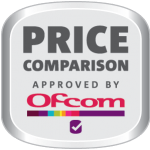 Approved by Ofcom
At BroadbandDeals.co.uk, we take our responsibility to our customers seriously. That's why we're proud to be approved by Ofcom, the UK's communications regulator. Here's what they had to say:
This means that you can trust us to provide you with accurate and up-to-date information about broadband deals, and to treat you fairly and transparently.
Exclusive rewards
We offer a range of exclusive vouchers to users who switch broadband through BroadbandDeals.co.uk. We like to change them regularly, so it's always worth checking in with us to see what's available, and maybe earn yourself a cheeky bonus!
Planting trees
At BroadbandDeals.co.uk, we care about the planet and are doing our bit to help. Every time someone uses our site to switch to a new broadband deal, we plant a tree to offset the carbon footprint of their broadband. We've offset nearly 2000 tonnes since 2022! That means you can enjoy the benefits of a better broadband deal while also helping the environment.

By planting trees around the world, we're helping to absorb carbon dioxide from the atmosphere and helping to tackle climate change. Trees also provide many other benefits, such as producing oxygen and supporting biodiversity.
We want to make it easy for you to make a positive impact on the planet and our tree-planting scheme is one way we are doing that. So, not only can you save money and get a better broadband deal by using our site, but you can also make a difference to the environment. Find your perfect broadband deal today and join us in our efforts to make the world a better place!
---
How to choose the best broadband deal
Choosing the best broadband deal for your needs can be a challenge. If you're not sure what to look for when you compare broadband, we're here to help. Here are some tips to help you make an informed decision:
1. Decide what you need
The first step in choosing your next broadband deal is to decide what you need. Think about how you use the internet and what your priorities are.
Do you need the fastest broadband speeds for streaming, or super low-latency broadband for gaming? Or are you mainly using the internet for email and browsing, in which case even slower ADSL broadband deals might be enough?
Are you interested in bundled offers with TV and/or phone services?
Answering these questions will help you narrow down your options.
2. Consider your budget
With the cost of living higher than ever, most of us need to save every penny we can. That means your budget may be the most important consideration when choosing a broadband deal.
Think about how much you're willing to spend each month, what you and your family need, and what you can afford.

Keep in mind that bundled offers may save you money in the long run, but they may also be more expensive up front.
There are plenty of cheap broadband deals available, and if you're really struggling then broadband social tariffs may be worth looking into.
3. Compare broadband deals
Once you have an idea of what you need and what you can afford, it's time to get comparing! Use our postcode search below to compare broadband deals in your area from the full range of providers.
Pay attention to the speed, contract length, and any additional features or services included in the package. Also look out for broadband offers with exclusive vouchers rewards and gifts. These can really make a difference and help you to save money on broadband!
4. Read customer reviews
It's always worth seeing what other people think of a broadband provider before jumping in. At BroadbandDeals.co.uk, we gather ratings and reviews from verified customers who have switched broadband deals with us. This way, you can check out how things went for them before you buy.
Don't forget to ask your neighbours too – they might have valuable insights into the best internet provider in your area!
5. Check the contract
Before you sign up for a broadband deal, make sure you check the contract terms and conditions.
As you're probably aware, it's standard practice to raise the price of broadband after the initial deal contract expires. Note that for some 30-day or no-contract broadband deals, this can mean as soon as one month after beginning the contract.
Unfortunately, it's also common these days for annual price hikes to occur, in line with the retail or consumer price index, even during your contract term. Be aware of this, and look out for the odd provider who promises no mid-contract price rises – such deals can provide big savings.
Look out for any hidden fees or charges and make sure you understand the cancellation policy. It's also worth checking the length of the contract and any penalties for ending the contract early.
---

Types of broadband available in the UK
There are several types of home internet connection available to UK customers. Understanding the different options can help you compare broadband offers and find the best deal for your needs.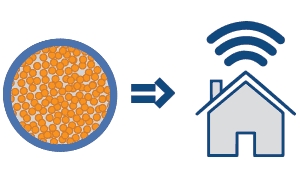 ADSL:
This is the most basic type of broadband, and it uses your existing bog-standard copper phone line to provide an internet connection. It's sometimes the cheapest option, but it's also the slowest.
We only recommend ADSL broadband deals if no other option is available, and many providers are phasing out ADSL deals altogether.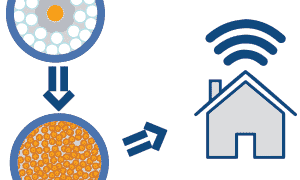 FTTC / Fibre:
Fibre to the Cabinet (FTTC) is a type of broadband that uses fibre optic cables to connect your local telephone exchange to a street cabinet. Standard copper phone lines then connect to your home. Speeds can reach up to around 80Mbps, or in (quite rare) G.Fast enabled areas even as high as 150Mbps.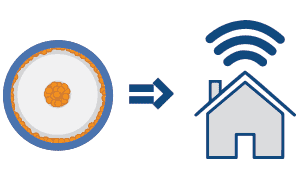 Virgin Cable:
Virgin Media's cable broadband uses coaxial cables to provide an internet connection. It's faster than ADSL and FTTC, but not as fast as full fibre, offering download speeds of up to 500Mbps.
Virgin say their network covers around 15 million homes, which is approximately 53% of UK households. However, coverage varies by region, and not all households within the covered areas may be able to receive Virgin Media's full range of broadband offers.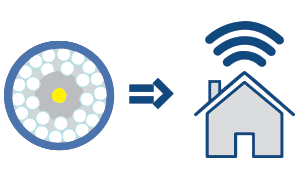 FTTP / Full-Fibre:
Fibre to the Premises (FTTP), known as Full-Fibre, is the fastest and most reliable type of broadband available in the UK. It uses fibre optic cables to connect your home directly to the local telephone exchange, with speeds available from 50Mbps all the way up to 1000Mbps (1Gbps).
The catch is that the FTTP network is smaller and often fragmented, with different providers each only covering certain areas. However there a many new providers offering full-fibre deals and coverage is growing rapidly.
You can check if and when gold-standard full-fibre broadband is coming to your area using the Openreach fibre checker.
Mobile broadband deals:
Mobile broadband uses a 4G or 5G connection to deliver internet to your devices. It's an excellent option for people who need internet on the go or live in areas with poor fixed-line broadband coverage.
Satellite broadband deals:
Satellite broadband is available in remote or rural areas where other types of broadband are not available. It uses a satellite dish to transmit data to and from your home, offering speeds of up to 30Mbps. This is expensive, and not especially fast, but can be an option for those who need internet access in places normal providers can't reach.
---
Should I bundle other services with my broadband deal?
If you're on the hunt for the best broadband deals, you might wonder whether bundling TV and phone with your broadband is worth it. The answer? It depends on your individual needs and preferences.
Bundling your services can often lead to a cost-saving deal if you opt for a package that includes everything. You can also simplify your billing by having all of your services with one provider. This is a great way to streamline your household bills.

When you compare broadband deals, it's worth assessing whether bundled services offer good value for your needs. If you're someone who uses their landline phone (we know you're still out there!) and likes to have access to the latest TV shows and movies, bundling might be the way to go.
However, if you mostly just use the internet for work or browsing and don't watch much TV, bundling isn't necessary. It's always worth comparing the prices of individual services alongside bundled deals. Make sure you're getting the best value deal for your specific needs.
When you use BroadbandDeals.co.uk to compare broadband deals, whether you're looking for a bundled phone, broadband and tv package or standalone services, we'll show you a breakdown of what each service costs. You can see exactly how long any discount periods last, and be sure of what you're signing up for before you take the plunge.
Broadband + Landline deals
It used to be standard to get a landline phone package with some inclusive calls with any broadband deal. However landline use is on the decline, with many cheap mobile contracts offering unlimited minutes, so many of us no longer feel the need. Nonetheless, you can still find a wide array of broadband deals with anytime calls or evening-and-weekend landline minutes.
It's worth noting that any ADSL or FTTC Fibre deal will include the cost of line-rental as standard, so even if you don't use the landline to make calls, you'll still need one installed to use the internet.
Broadband + TV deals
Sky, BT and Virgin have offered inclusive TV packages with broadband for many years. These used to be limited to broadcast television channels, whether through satellite, cable or freeview, but now they all include fully on-demand streaming services as well.
These big three tend to offer a few different channel-bundles, with the cost increasing for cinema and sports channels in particular.
You'll also see more and more providers throwing in sweeteners such as a free subscription to Netflix, Disney+ or Amazon Prime. Be careful to read the full terms and conditions for these offers, and check exactly how long the freebies last!
Broadband + Mobile deals
Providers also sometimes offer mobile sim-only contracts bundled in with broadband deals. Currently only Virgin in partnership with O2 are promoting this type of bundle through their 'Volt' packages.
A huge range of mobile sim-only deals can be found on the market so it's worth double-checking whether any in broadband bundles represent good value for money.
---
How to switch broadband providers
Switching to a better broadband deal has never been easier (and happily, Ofcom are working to simplify the process even further).
1. Check your current contract
If you're not currently tied into a contract, then you're free to look around for better broadband deals. You can also avoid any exit fees or penalties that come with leaving a contract early.
If you're still under contract it's best to wait until around 4 weeks before your current agreement expires to find the best new broadband deal. You can ask us to send you a reminder when it's time to switch if you like!
2. Choose a new broadband deal
Comparing broadband deals is essential to finding the right package for your needs. Start by checking your postcode to see what's available at your address. Once you know what's available, you can find the perfect broadband package that suits your needs and budget.
3. Place your order
You can order any deal found on BroadbandDeals.co.uk by clicking 'See Deal' and following the provider's instructions.
Many broadband providers offer online-only deals that are not available over the phone or in-store. By ordering your new broadband deal online, you'll be able to take advantage of some of the best broadband deals available.
Be aware that some offers like vouchers and rewards may be exclusive to a particular price comparison site. You'll need to carefully read any terms and conditions and make sure you qualify.
4. Install your new broadband, and enjoy!
Once you've ordered your new broadband deal, the provider will be in touch to schedule a convenient installation date. If you need an engineer to visit, they'll be happy to set everything up, make sure it's working correctly and give you some guidance.
Your new broadband should be up and running almost immediately – sometimes with a few hours of down time in between. Give it a couple of days for optimum speeds to settle in as your new provider assesses your line.
5. Do I need to inform my previous provider?
Your new provider will usually contact your old provider to let them know about the switch, and you don't need to do anything. If you're switching to or from Virgin Media, or certain FTTP providers, you may need to let your old provider know.
Switching internet providers has never been easier, and by taking advantage of the best broadband deals available, you'll be able to enjoy better speeds at lower costs. Compare broadband deals today to find the perfect package for your needs.
---
Frequently asked questions
How long will it take to get connected?

▼

The length of time it takes to get a new broadband connection live can vary depending on a few factors. Generally, it takes between two to four weeks from the time you place an order to the time your new broadband deal is activated. However, this timeline can be affected by factors such as the availability of an engineer for installation or if there are any technical issues during the activation process.

In most cases, your new broadband provider will keep you informed about the progress of your order via email or text message. They will also provide you with a specific activation date and time so that you can be prepared for when your new connection goes live. It's worth noting that you may experience a short period of downtime during the switch-over process, so it's a good idea to plan ahead for this.

Overall, while the process of getting a new broadband connection live can take a few weeks, the wait is usually worth it for the improved service and potential savings that come with a new broadband deal.

Do I need a landline?

▼

Basic ADSL and FTTC fibre broadband both require a landline because they use the copper telephone line to transmit data. The line carries both your telephone and broadband signals, which means that you need an active telephone line to connect. If you don't have an active Openreach landline, there may be extra up-front costs to set this up initially.

In contrast, other types of broadband, such as cable, full-fibre (FTTP), mobile, and satellite broadband, don't require a landline because they use different technologies to transmit data. Cable broadband uses coaxial cables to carry data, while full-fibre uses fiber-optic cables. Mobile broadband uses cellular networks, and satellite broadband uses satellites to transmit data. Because these technologies don't rely on a copper telephone line, you don't need a landline to use them.

What broadband speed do I need?

▼

The broadband speed that a typical househol would require depends on their internet usage. For light browsing and email, a speed of 10 Mbps is usually fine. For streaming video and music, a speed of 25 Mbps is recommended. For online gaming and video conferencing, a speed of 50 Mbps or higher is ideal.

If you have multiple users in the household or use your connection for large downloads or uploads, you may want to consider a faster Full-Fibre connection. It may also be worthwhile to pay extra for a faster connection if you want to reduce buffering during streaming or improve online gaming performance.

What broadband speed will I get?

▼

When choosing a new broadband deal, it's important to be aware that the actual speed you receive may vary from the advertised average speed.

Factors such as distance from the exchange, network congestion, and the quality of your equipment and wiring can all affect the speed you receive. Advertised speeds are usually based on the average speeds received by at least 50% of customers during peak times, but this doesn't guarantee that you will receive the same speed. Your actual speed may be slower, which can be frustrating if you are relying on a fast connection.

However, it's important to note that providers are legally required to provide you with an accurate estimate of the speed you are likely to receive before you sign up, and you have the right to exit the contract without penalty if the actual speed is significantly lower than the estimated speed. It's always a good idea to do your research and read reviews from other customers to get an idea of what speeds you can expect to receive before making a decision on a broadband deal.

Why can't I get some deals at my postcode?

▼

Unfortunately it's a bit of a postcode lottery, and it mostly depends on the infrastructure in your area.

Some providers can only supply households on their own cable networks, such as Virgin, Gigaclear and KCOM. Most others are reliant on the Openreach network which covers most of the country – but not everywhere. Often rural areas get the short straw because the expense of running cables can be prohibitive.

To get fibre deals, you need to be in an area where the exchange and cabinets have been upgraded to fibre optic cables and there needs to be spare capacity available for your connection.
Providers may choose not to supply your postcode if they aren't confident of giving you a good speed.

What if I don't want a long contract?

▼

If you're not sure how long you will need your broadband deal, most providers now offer monthly rolling contract options. However, it will definitely be more expensive, because you won't benefit from introductory discounts and you'll need to pay more to cover the costs of hardware and setup.

If you need a shorter contract because you're planning to move house, bear in mind that providers will normally let you bring your contract with you, and if that's not possible, some may let you out early. If not, it may still be cheaper to pay a few months more than you need.

There are special 9 month deals available for students, but they're normally only advertised before the start of the academic year.