Broadband in new homes
Broadband in new homes tends to be faster than in comparable resale properties, and connectivity is often a key selling feature among developers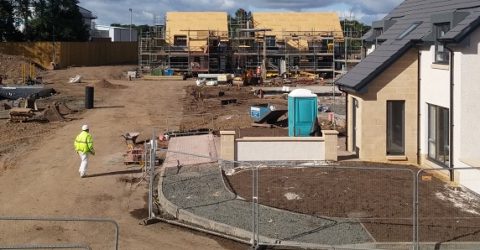 Even if you're a devotee of period detailing and ten-foot ceilings, brand new homes are undeniably appealing.
Modern properties don't have egg-and-dart cornicing or herringbone parquet floors. But they do sport modern appliances, pristine sanitaryware, and unblemished walls and woodwork.
There shouldn't be any subsidence or rot, extensions lacking the requisite council paperwork, or hidden horrors like insect infestations and plumbing leaks.
And while new-builds have traditionally been synonymous with energy efficiency, they're increasingly associated with high-speed internet connectivity as well.
When it comes to getting the best broadband deals, new homes often have the fastest in the area, which will be music to the ears of anyone weary of sluggish ADSL connections…
As broad as it's long
Broadband in new homes is typically pre-cabled at the foundations-and-utilities stage of groundworks, either by Openreach or a full fibre firm like Virgin Media.
In an age when diggers and cranes roam the earth, installing a full fibre connection onto a building site is far more cost-effective than retrofitting it along an established street.
Properties typically have an Openreach modem (known as an ONT) pre-installed, while some housebuilders simultaneously arrange installation contracts with local fibre broadband firms.
This gives prospective homeowners a choice of which high-speed line to deploy.
Many full fibre firms also pre-install routers (typically under the stairs in a two or three-storey dwelling), enabling customers to sign up quickly and conveniently at a later date.
It means customers get to enjoy broadband in new homes from the day they move in, rather than needing to wait for an engineer to come out and connect them up.
(The engineer is often from Openreach, who aren't customer-facing. They can be difficult to contact if an appointment isn't honoured, or if something goes wrong).
At home on the range
Unlike the solid stone walls of Victorian and Georgian properties, new-builds tend to contain stud internal walls which don't block signals as comprehensively.
That generally ensures decent range from a wireless router, though full fibre firms may offer a mesh extender box to cover every extremity of multistorey dwellings.
Broadband in new homes is often distributed through pre-installed media plates in main apartments, with Ethernet cabling hidden behind the plasterwork.
Once connected to your main router, this effectively hardwires devices into a network – though ISP technical support staff are unlikely to regard this as traditional hardwiring.
If you live in a flat, you should always be within an Ethernet extension lead of the main router.
(Before calling tech support, run a cable between the router and a computer, which will give the engineers a stable connection to troubleshoot and test at optimal speeds).
Is broadband in new homes always hyperfast?
Absolutely not.
Any connection over 500Mbps is regarded as hyperfast, though ISPs occasionally use the word 'hyper' in marketing literature to describe connections which are significantly slower.
Earlier this year, the UK's biggest builder (Barratt) confirmed they would be pre-cabling gigabit-capable broadband in new homes at every development they build from now on.
MoreHow to deal with connection issues in new homes
Persimmon have developed a proprietary network called FibreNest, which offers speeds up to 500Mbps, though it's often the only network their customers are able to sign up to.
Other construction firms such as Taylor Wimpey and Redrow have employed dedicated infrastructure companies like Hyperoptic to pre-install full fibre broadband in new homes.
This is an option often lacking among smaller builders, who rarely have either the time or the inclination to negotiate discounted broadband installation with infrastructure providers.
In such instances, a property will typically have a phone line installed instead, meaning its eventual owners need to endure ADSL connectivity – or upgrade the line themselves.
If you're unsure what ADSL relates to, it describes the Asymmetric Digital Subscriber Line used to convey telephone signals (and internet data) into many homes.
In real-world conditions, peak download speeds on an ADSL connection are likely to be around 10Mbps, while uploads average a frankly disappointing 1Mbps.
That compares to symmetrical 900Mbps upload and download connections along the latest generation of full fibre cables, which seamlessly link data servers and private homes.
How can I tell if a new home has high-speed broadband?

Your first port of call should be the developer's on-site sales team, who should've been briefed in advance about any high-speed connectivity.
This is a key selling feature among most buyers, and it's something many people will ask about even during an initial enquiry.
If the sales team aren't particularly forthcoming, you're probably going to end up on FTTC or even a slow ADSL connection – at least initially.
To investigate further, request the postcode of your new property as soon as possible.
If it's not registered with Royal Mail yet, it won't be on Openreach's database either. ISPs won't be able to advise on potential line speeds.
In this instance, try to find postcodes in the immediate vicinity – previous phases of construction, or older neighbouring properties backing onto your preferred building or plot.
Search one or two ISP websites (BT is a good choice as the former national monopoly holder), and see what line speeds they're reporting in neighbouring postcodes.
Fast connections there won't guarantee your property is comparably connected, though if your neighbours have sluggish broadband, it's highly likely your new home will do as well.
When should I book broadband for a new home?
The optimal time to book a switch or new broadband deal is around three weeks before about a forthcoming move.
They might not be able to find your property on either Royal Mail or Openreach's databases before then, which will necessitate you waiting until these databases are updated.
(It's incumbent on the builder to do this, but they're sometimes slovenly about it, while Openreach only tend to update their database towards the end of each month).
If the property is listed, a fortnight's notice to any ISP should be sufficient, whether you're transferring an existing service or setting up a new one.
Full fibre broadband providers can often activate home broadband connections in real time if their routers are pre-installed. Otherwise, you'll have a wait for hardware to be delivered.
It's worth prioritising this when you move in, since many electronic devices now require a broadband service to function properly, and technical issues may take days to resolve.
I don't think I could live without broadband for days…
Few of us could. But happily, even in a brand-new house, there's no need to endure a lack of broadband in new homes.
Mobile devices tend to finish each month's contract period retaining unused data. This can be fully used up, or piped to a computer in a process known as tethering.
You could go the mobile broadband route with a dongle or hub from one of the UK's big four mobile networks – either a plug-in USB stick or a router-aping MiFi device.
Free WiFi is widely available in public buildings, commercial premises and eateries.
In apartments and houses with a shared wall, you might even be able to harness a neighbour's WiFi network, providing you already know (and trust) each other.