An introduction to WordPress plugins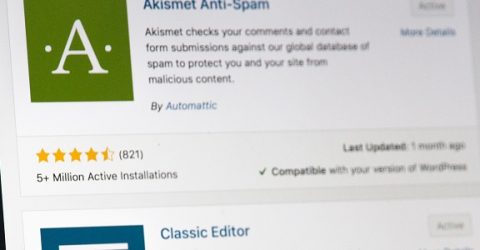 If you've ever attempted to build and launch your own website, there's a good chance you'll have used WordPress as your platform of choice.
Despite the presence of heavyweight rivals like Wix and Weebly, WordPress has become the world's most popular site-building and content management platform.
Launched in 2003, its simple drag-and-drop interface has been used to build websites for leading brands including the BBC, Sony, Facebook and Disney.
However, the basic WordPress site-building platform has many limitations.
Its robust and lightweight construction provides the basics for a fast-loading and extremely reliable website, but without any bells and whistles.
To deploy additional site services or functionality, you need to download and install dedicated pieces of code, each of which performs a specific function when called upon.
These WordPress plugins are the main reason WordPress currently powers an estimated 35 per cent of the world's active websites.
Word up
The standard WordPress site-building platform enables you to construct a site using thousands of pre-formatted templates.
As you adjust elements on the page, WordPress generates the HTML code necessary for web browsers to interpret and display everything correctly.
However, there isn't much else you can change at this stage.
You can't build in ecommerce functionality, protect comments forms against spamming, customise image galleries or track site visitor activity.
You'll need WordPress plugins to optimise SEO, dovetail with social media platforms, incorporate Google mapping services or even add a form to your site.
In total, there are over 55,000 different plugins available on the WordPress.org website, each performing a specific function (or set of related functions).
The idea is that you only install the ones you need, and they only activate when required.
This minimises page loading times (good for SEO), simplifies site construction (good for administrators) and ensures websites are robust and easy to use (good for visitors).
Installing a plugin is often as easy as searching for a subject or function in the WordPress plugin library, and clicking Download.
Some are free to install and use without restrictions, though others have been developed by software companies, resulting in a small fee and occasional usage restrictions.
Plugin baby
Some WordPress plugins are of marginal benefit. Cornify fills inactive user screens with unicorns, while Asteroids Widget lets visitors blast holes in specific pages on your site.
Other plugins are far more useful, falling into several core categories:
From page loading times to keyword usage, SEO tools provide simple instructions for improving a site's performance in Google and Bing results.
Some ecommerce plugins are incredibly advanced, supporting multiple payment methods, product customisation and product shipment/downloading.
Site analytics plugins record visitor behaviour and provide insights into improving audience engagement, as well as informing you where/how to advertise your site.
Some security plugins weed out spam posted via comment forms; others protect against hacking; while many provide sophisticated 2FA security and firewalls.
Third-party site integration lets you add social media buttons, share content on syndicated sites and embed YouTube videos on the latter's super-fast servers.
Design plugins take WordPress's aesthetics far beyond pre-set templates. From watermarked image slideshows to bespoke font creation, there's a world of choice.
There are numerous direct marketing plugins, with some of the most popular handling bulk email distribution with tracking and subscriber opt-in/out management.
Database optimisation might sound dull, but it's essential for any site offering choice. And again, this isn't something WordPress offers by default.