Augmented reality in the home
It's been a slow-burning revolution, but there's a real prospect of augmented reality in the home becoming commonplace in the coming years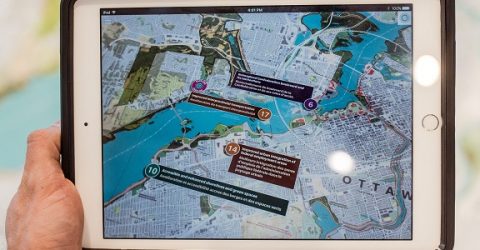 Remember when virtual reality was heralded as the next big technological breakthrough, offering a gateway into an entirely new world?
Well, it didn't really pan out.
Issues with cabling and connectivity, motion sickness and sheer impracticality appear to have stopped VR from becoming the next big thing.
Indeed, its crown may have been stolen by its augmented cousin.
Offering a more workable overlay of digital information onto the real world, the AR market will be worth an estimated $160 billion in five years' time.
While VR requires users to immerse themselves in a virtual environment (making even small movements troublesome outside a gaming lab), AR projects content onto a screen – or directly in front of you.
Pokémon Go is a prime example, with animated characters appearing on the live screen feed of your smartphone camera.
Indeed, Pokémon Go provided a first taste of augmented reality in the home (and also outside) for millions of people.
However, it's unlikely to be their last encounter with a technology whose potential dovetails neatly with recurring predictions of a fully connected future.
Our homes are seen as the frontline of AR's battle to win the hearts and minds of consumers who've lived without it until now.
Below, we've given three examples of industries and services where augmented reality in the home could deliver tangible benefits.
Home improvements
If you've ever stood in a furniture shop with a tape measure, looking doubtfully at a sale item and saying "but will it fit?", there's clear scope for adopting augmented reality in the home.
IKEA allows people to view over 2,000 virtual products, superimposing them through an app. Each item automatically resizes to scale, giving an accurate impression of how it'd look in situ.
John Lewis offer a similar service with sofa fabrics and dimensions, while Dulux's Visualiser app lets people 'see' over a thousand different colours on the walls.
Entertainment
In the same way Shazam tells you which song is playing, an AR TV app could superimpose subtitles, or project IMDB details via facial recognition.
The technology might call up brochures in support of a TV advert, while hardware such as Google Glass could allow you to skip those adverts simply by moving your eyes.
Pokémon Go has been followed by newer titles like Knightfall, which projects medieval battles onto your rug or dining table, while Ingress Prime is a superimposed 'king of the hill' game.
Fashion and beauty
Fashion brands have launched apps allowing users to virtually apply make-up, letting them experiment with skin tone matching and bold shades without leaving the home.
Amazon has filed a patent for technology which superimposes outfits using a digital mirror. It's still in development, but offers a glimpse into a post-changing-room future.
The SneakerKit app lets people 'try on' shoes in 3D, while Ink Hunter superimposes potential tattoos onto your body – helping users to avoid making an indelible mistake…