Beat the hidden broadband costs that cause bill shock
You'd be forgiven for assuming that all broadband was pretty much the same, with the same perks included, and the same features available for similar prices.
However, what is and isn't included with a broadband package can vary as much as the price of the packages themselves, and the two don't always correlate.
For the most part it's relatively simple to work out which broadband package is right for you based on your budget and what you want included in terms of broadband speed, TV channels or phone call bundles.
There's nothing more frustrating than discovering that there's extra charges you weren't aware of attached to a bill. So, how easy is it to avoid these and ensure you're only paying as much as you expect to?
The 2016 line rental change
For a long time, most broadband packages were plagued by one very specific hidden fee: line rental. The cost of line rental was often an unexpected surprise on the monthly bill of broadband customers.
You would often see unscrupulous broadband providers offering ridiculously cheap broadband, say for £2.50 a month, only to squirrel away the cost of line rental as a separate charge in the small print.
However, changes were brought in by Ofcom on 31 October 2016 and line rental charges are no longer hidden, you will always find these included with the price of any broadband package you look at.
This was a huge step forward. and a real assistance to those who were troubled with hidden fees.
This isn't the end of the discussion as there are several other ways to get caught out.
The fees mentioned in this article are not necessarily hidden in all cases, but they can certainly creep up on you if you don't keep a close eye on your broadband contract.
Setup fees
This not necessarily a hidden cost but setup fees can certainly slip under the radar.
At BroadbandDeals.co.uk we always tell you what the setup and installation fees are for any new broadband.
With a price range that goes from zero to £50+, setup fees can cause a first month bill shock if you do not make sure you are aware of them before choosing a package.
We list what every ISP charges under More Info on each broadband deal comparison so you can see exactly what you're getting.
You'll find any setup fees under the main price on the right of every card, then in the drop-down menu of More Info you can see exactly what the Hardware & Installation costs are, and any Postage & Packaging fees the ISP will put on your bill.
At the foot of every deal is The Bottom Line, which calculates up any hidden or under-reported costs and tallies them all up for you, so whether the ISP shouts about it or not, you can always see what your first month's bill should look like.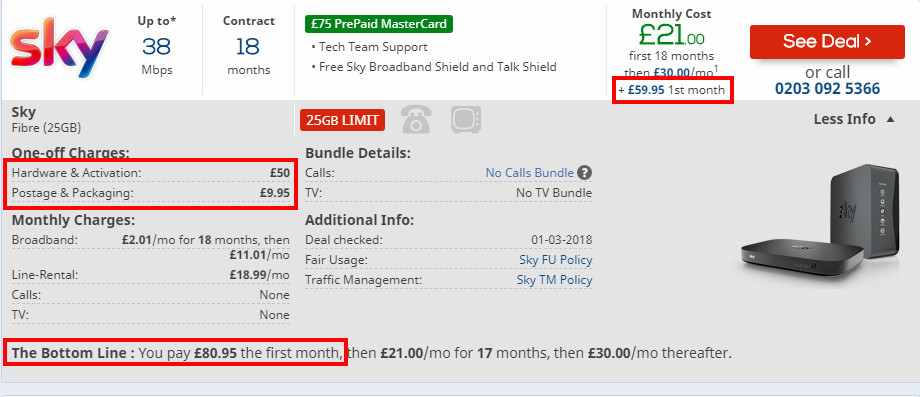 Cancellation fees
The fees charged for cancelling a broadband contract can be as unexpected as they can be expensive.
If you are switching while out of contract from one broadband provider to another there will not usually be any fees attached.
If you are cancelling while you are still in contract, you will usually be expected to pay at least the equivalent of the remaining months on that contract.
Andy if you are cancelling your contract before your minimum term of 12 or 18 months is up, you may find yourself landed with a hefty fee. The charge from BT is £30 in this instance, other ISPs have a range of different charges.
The best way to avoid this is to sign up to broadband with a rolling one-month or 30-day contract, or by waiting until your contract is up before making a switch.
Some providers, like Virgin, will also expect you to return the equipment you've been given to allow your broadband to work, and may charge you if you fail to do so.
End of discounted prices
When you take out a new contract you will often be offered a reduced rate for a certain amount of time, six months, for example.
At the end of that six-month period, the charges will then increase to the usual rate. Although this charge is not hidden per se, it can be a nasty surprise if you have not made a note of when your broadband bills will increase.
We always tell you whether the headline price per month will increase, and after how long.
You can find this information on under the main monthly price on the right-hand side of every price comparison card on BroadbandDeals.co.uk.

Download Limits
This is less of a problem than is once was, as many broadband providers now offer unlimited download packages, but that makes it even more likely that you will not notice if there is a download limit on your contract.
BT and Sky are the only major broadband providers still selling data-limited broadband.
You'll see this on our comparison cards as 'Unlimited' if there are no data limits, or if there is a data limit, with a specific number of gigabytes (GB) you're allowed to use each month.

While data-limited contracts can be cheaper up front, there's a reason for that. They often work out more expensive in the long run.
BT charge a whopping £1.80 PER GB if you go over your usage allowance on a data-limited contract.
With more common apps demanding more and more data, it's very easy to slip over this limit without realising and cause yourself a mini-heart attack when you read your BT bill.
Hidden costs are not the risk they once were, but it is still necessary to be thorough when reading contracts and information on deals, so you know that you will only be paying what you expect for your fast new broadband.
Thinking of switching? Find the cheapest and fastest broadband deals with a simple postcode search
MAIN IMAGE: Benjamin Gray/CC BY-SA 2.0