Can I use home broadband for my business?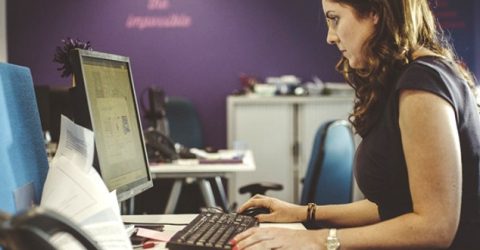 If you've got your own business, getting it set up online is rapidly becoming less of a choice and more an absolute necessity.
While you can run a Facebook store from your mobile, if it's getting more serious and you're adding staff, you may want to consider business broadband.
One main thing to note: you don't have to get business broadband to run a business. In other words, you have no legal obligation to buy business broadband for your business.
Any ISP will be happy to serve your start-up with home broadband. All you need to do is decide what level of service you really need.
Jump straight to the latest home broadband deals here.
What you actually get with business broadband
ISPs like TalkTalk and BT offer both home and business packages for broadband and on paper they can look very similar.
Business broadband can be much cheaper than the residential equivalent, so is a step into the unknown worth it?
You still pay out monthly, usually on an 12 or 24 month contract, you'll still get a router posted to you by the ISP you choose, and there are still options to add in calls packages, but no TV bundle add-ons, which is perhaps unsurprising.
The benefits of business broadband
Whether you're just starting out, expanding into new areas or looking for ways to streamline your company workflow, fast and especially reliable broadband is key to long-term success.
Consistency
No matter what speed package you choose, ISPs tend to prioritise business broadband over residential connections on their networks.
If your business and your neighbour's home connection of both vying for bandwidth, you'd likely be first in the queue. This means you're first in more likely to retain your maximum speed, even at peak times of the day.
Static IP addresses
If you want to host a website, a file sharing server for employees or enable remote access for your company's computers, you're going to need a static IP address.
It is practically impossible to get a home broadband package that includes even one static IP address. You do have the option to host your website or FTP server externally, but this will probably cost you extra in the long run and finding a decent hosting service is its own can of worms.
Speed
Business broadband packages will also make faster upload speeds available, which are almost impossible to come by for residential customers.
If your business involves publishing multimedia online, conducting video calls or hosting a website or server, a high upload speed will dramatically increase your performance.
Check with your ISP if they can guarantee certain upload speeds. You'll need this information down the line if you're regularly getting slower speeds than were promised.
For fibre (38Mbps and up) and ADSL (up to 17Mbps) connections, you might not see any differences between the available speeds for business and home broadband.
Customer service
Perhaps the most important benefit of upgrading to business broadband is the significant gains from your ISP's customer service.
That means – in theory – no more Twitter flame wars with the poor fools tasked with social media customer service.
If your business depends on a constant internet connection, losing service for an extended period of time can be catastrophic.
Not only does business broadband ensure prioritised customer service and better technical support, you are more likely – should you choose wisely and shout loud enough – to get lightning-fast response times if engineers need to be sent out. Home broadband customers often have to wait over a week before severe problems even begin to get fixed, where business customers could be waiting for less than a day.
Your connection quality and reliability can be ensured by a Service Level Agreement (SLA). This is an extra measure of security on your contract that guarantees you will get acceptable speeds, minimal downtime or disruption and that any faults are fixed immediately. If your ISP fails to deliver on anything in your SLA, you can receive compensation for any lost business you suffer.
For many businesses, losing an internet connection directly results in losing money. If your business is one of these, the assurance granted by an SLA is certainly needed.
Calls
Business broadband packages can include advanced phone options that are unavailable to home broadband customers.
Voice over IP, call management and forwarding services and inclusive landline and mobile calls are just some of the features that can be bundled with business broadband packages.
Just be careful about your terms and conditions. Many a business has optimistically set up a long contract only to collapse, or get taken over, before the term is out. Then you're left with a big bill and no business to pay for it with.
Routers
If you're running a crowded office, or need to connect a large amount of devices, you could find business broadband with a high-capacity router included, as well as the option to have it professionally installed.
If each member of your team needs a PC, a phone using the company wireless and other wirelessly-connected devices like printers, then the capacity of your router will be critical.
If you have a small business or are a sole trader, you will probably be fine with a standard home router. Especially large businesses may need to purchase a third-party router that can support more demanding use.
The Bottom Line
It can be hard deciding exactly what you're going to need from your broadband, especially if your business is new or still growing, so here are a few pointers to advise your decision.
You will probably need business broadband if:
You publish, share or upload a lot of data-heavy online content.
You're hosting your own email or website server.
You have more than 10 employees all working in the same office.
You probably don't need business broadband if:
You're a sole trader.
You don't rely on the internet for the majority of your sales, or
You don't offer services solely over the internet.
The bottom line is: if you're in business and severe internet problems could cause you to lose money, you'll be better off with business broadband.