Can you still use Windows XP devices online safely?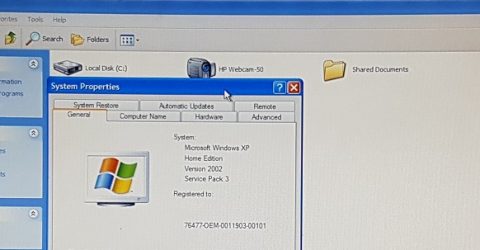 It's hard to overstate the significance of Windows XP.
Launched by Microsoft in 2001 to replace the unsuccessful Millennium Edition, XP remained the world's most widely used operating system until Windows 7 finally surpassed it in 2012.
Its default background of hills and clouds is believed to be the most viewed image in human history, with over 400 million copies of XP sold in its first five years of release.
To this day, XP retains over 25 per cent OS market share in some countries, and it's still heavily used everywhere from the NHS to ATM machines.
XP also benefited from being sandwiched between two of the least successful Windows versions ever launched – the short-lived ME and the reviled Vista.
Millions of people refused to upgrade to Vista, which was further handicapped by being launched just before the global financial crisis caused IT budgets to be slashed.
You may have a Windows XP computer in your home, since netbooks were still being sold this decade with XP installed as a less resource-intensive alternative to Windows 7.
The latest version of Windows 10 requires 16 times as much memory and storage space as XP, and many older computers simply aren't powerful enough to run it.
However, are XP-powered devices safe to use online?
There's no support or updates…
Half of the 700 security fixes released during XP's lifetime were critical, which means numerous unresolved threats will have emerged since extended support ended in April 2014.
Interestingly, Microsoft did make an exception for the all-conquering WannaCry ransomware outbreak last year, releasing a patch for XP users.
Despite being keen to steer users towards Windows 7, 8 or 10, Microsoft acknowledges the enduring popularity of its iconic Millennial OS.
…but you're okay to use Windows XP online
With sufficient processing power and adequate hardware, an XP computer will be perfectly capable of handling internet services like Spotify, Twitter and YouTube.
If you're keen to go online using an XP device, these tips will help to keep you safe:
Download the latest service pack. Service Pack 3 was Microsoft's final update for XP, making this the most up-to-date version available
Install an antivirus package. Some of the biggest AV platforms are XP compatible, helping to block current malware, phishing attacks and viruses
Create a firewall. Some ISPs provide these, but another option involves channelling internet data through an old desktop computer before it reaches your main device
Install Google Chrome. Even if your OS can't be updated, web browsers can. They're often the first point of attack for malware, and Chrome is considered very secure
Minimise risks. Accept any XP device is fundamentally insecure. Don't open unknown attachments, avoid clicking email hyperlinks, and only visit Google-approved websites.