Comparing the UK's streaming media providers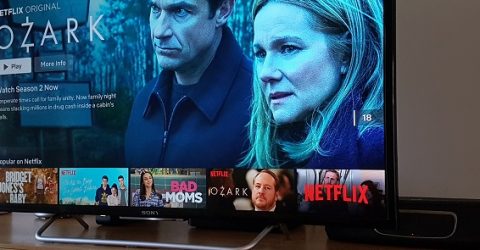 We live in a golden age of film and television, thanks to the wonders of broadband internet connectivity.
Streaming media providers from around the world have descended on the UK, trying to attract subscribers with exclusive content and original programming.
Indeed, recent Ofcom data suggests more people now have subscriptions with streaming media providers than with conventional pay TV platforms like Virgin.
In response, the UK's established broadcasters have retaliated in kind.
From the BBC's A Very English Scandal to Sky's Fortitude, there's an awful lot of quality content being created.
That makes it difficult to decide which streaming media providers deserve our bank details.
These are the leading runners and riders, as of September 2018:
1. Netflix
Pros: The best array of original content, universal interface, works on almost any device
Cons: Poor for movies, often removes content without notice
Summary: Among the UK's streaming media providers, Netflix is the undisputed heavyweight.
It funds and generates more original content than any other platform, including flagship series like House of Cards and Jessica Jones.
It works on devices from Apple TV to Chromecast, and the interface is child's play to navigate.
You can even download content to watch offline, making this a great resource for holidays or long car/train/aeroplane journeys.
Do be aware that entire series have a nasty habit of disappearing overnight.
2. Amazon Prime Instant Video
Pros: Free to Amazon Prime customers, more recent movies than Netflix, dedicated hardware
Cons: Not compatible with Apple TV, frustratingly slow interface
Summary: Despite being BSB to Netflix's Sky, there's plenty to like about the awkwardly-named Amazon Prime Instant Video.
Some good original content is available, including The Grand Tour's astonishing cinematography – currently the best reason to invest in a 4K TV.
Certain content needs to be individually paid for, the interface is jerky and sluggish and there are no firewalled profiles for children.
3. Now TV
Pros: Brings Sky content to the masses, flexible subscriptions, live and on-demand content
Cons: Quickly becomes expensive, no 1080p or 4K content
Summary: There are millions of people around the UK unable (or unwilling) to bolt a Sky dish to the side of their house.
Now TV represents a partial workaround, delivering 300 box sets, a thousand movies and extensive live sports coverage.
However, a daily Sky Sports pass costs £7.99 by itself.
Although the lack of contracts and satellite dishes is welcome, pay-as-you-go content does become expensive.
4. iTunes
Pros: Ideal for Apple loyalists, full HD content, simple interface
Cons: Requires Apple products or iTunes installation, costs rapidly escalate
Summary: If your home is already festooned with Apple logos, iTunes represents an obvious choice.
It offers a variety of pay-as-you-go rental or ownership options for movies and TV series, the latter acquired using either a series pass or as standalone episodes.
As with Now TV, costs soon spiral.
There's limited device compatibility, though Apple's relationships with major studios and broadcasters have resulted in a well-stocked pantry of available content.
5. Mubi
Pros: The connoisseur's choice, exclusive content, simple pricing structure
Cons: Very niche, only works on a handful of platforms
Summary: There are many streaming services vying for your pennies, but Mubi deserves a mention for its brave decision to shun mainstream content entirely.
This cinema portal offers monthly subscriptions or rental options for its global portfolio of art-house movies, often rolled into thematic or retrospective curations.
However, other than Sony PlayStations and a few smart TVs, you'll need to watch Mubi on a computer or tablet/smartphone.