How to childproof your home broadband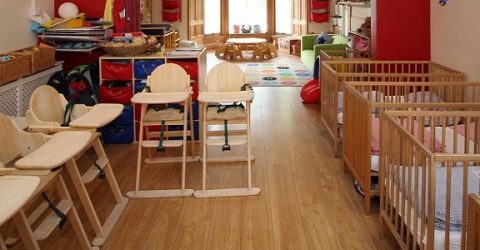 We live in an age where babies can navigate around iPads before they can speak, and where toddlers are content to watch Peppa Pig in Russian over a dodgy internet stream.
Whether we like it or not, children are born immersed in a digital world which has huge potential to be harmful and disruptive.
From grooming and pornography to radicalisation and cyber-bullying, the internet is a hotbed of potential risks.
And while we'd ideally spend our evenings quietly observing our offspring as they build castles in the sky or shoot zombies in the head, we can't police them all the time.
Fortunately, keeping children safe online doesn't require eternal vigilance. In fact, it's relatively easy to ensure youngsters aren't exposed to the darker side of the web…
Easy steps towards childproof home broadband
Keeping children safe online varies by age, but any child should be spared unwitting exposure to indecent images, or conversations with anonymous online strangers.
It's vital to ensure children aren't registering social media profiles on sites with minimum age limits.
An easy way to prevent this is to share one email account among the whole family.
These are some other recommended steps…
Activate parental filters
Parental filters on broadband routers attempt to identify sites with age-inappropriate content, preventing them from displaying on any device.
The algorithms aren't always 100 per cent accurate, but keeping children safe online will be easier if an ISP is doing most of the hard work for you.
Filter search results
Another easy win involves visiting your search engine of choice and ensuring results are filtered, by turning on SafeSearch from the Settings menus of both Google and Bing.
Alternatively, bookmark a child-friendly search engine like Swiggle.org.uk. Making a site like CBeebies your homepage also steers kids towards distracting, age-appropriate resources.
Password-protect devices
Don't permit unsupervised internet access, even from smartphones or mobile devices. Ensure every web-enabled machine has a password, and turn off automated bank card form-filling.
It's advisable to keep the main family computer or tablet in public areas like a dining kitchen. From here, it's easier to supervise (and tackle) intrusive adverts or in-game pop-up messages.
Limit connectivity
It isn't healthy for young minds to spend too long online, so set time limits for internet activity – and enforce them. There are plenty of things to do in the real world.
ISPs increasingly offer the ability to disconnect specific devices at night or after a certain period of time. Playing games offline should also be encouraged, wherever possible.
Keep talking
Finally, don't overlook the importance of talking to your kids about the dangers of handing out personal information, or why it might not be possible to delete social media posts.
Discussing ways to block unwanted conversations or report anonymous messages could help them to identify unwelcome activities, and also give them confidence to tell you if it happens.