How to work al fresco without losing productivity
Working outside productively represents one of the most compelling advantages of working from home, though it poses some specific challenges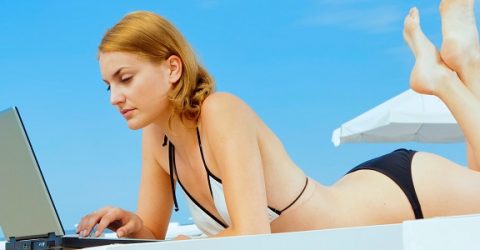 Summer may be entering its final weeks, but it'll be a while before our gardens are reduced to icy wastelands only entered when it's time to put the bins out.
September and October can provide weather suitable for sitting outside – or even taking the laptop into the garden.
With millions of people getting their first real taste of home working during lockdown, working outside productively can transform the 9-to-5 as much as being based at home.
You'll get the serotonin benefits of sunshine, the natural stress-reduction of witnessing nature at work, a change of scenery from the spare room, and greater environmental inspiration.
However, working outside productively also requires a degree of planning to achieve as much as you would indoors.
Light (not so) fantastic
The first issue typically encountered while working outdoors involves being able to see screens clearly.
Many laptops and tablets have limited brightness, meaning their displays can look washed out in bright conditions or if the sun is shining on them.
This is exacerbated by wearing sunglasses, which automatically make things look darker. A brimmed hat will keep sunshine out of peripheral vision without adding to the gloom.
Try to position the device's screen between you and the sun to optimise visibility, or sit underneath a canopy to benefit from some shade.
It may also be necessary to raise the screen brightness to maximum, but remember to reduce it once back indoors to save battery life and avoid staring at an overly bright screen.
The sound of silence
If your back garden is an oasis of tranquillity interrupted only by the delicate splashing of a water feature, focus shouldn't be a problem.
If outside space is shared with children and dogs, backs onto a main road or is surrounded by other gardens, peace and quiet may be an ambitious aspiration.
In these circumstances, a pair of noise-cancelling headphones represents a good investment.
Also consider wired in-ear headphones with an integral microphone in the cable. These are optimal for video calling since they capture your voice but little else.
Optimise WiFi connections
With picture and sound hopefully resolved, working outside productively also requires a WiFi signal strong and reliable enough to support al fresco employment.
This might necessitate repositioning your broadband router nearer to the garden, or investing in mesh extenders to boost the signal near patio furniture or outdoor workstations.
Try to minimise the number of devices seeking wireless connectivity while you're a fair distance from the router, unplugging any hardware which is a major bandwidth hog.
It may be advisable to establish wireless connections to printers and other peripherals back in the house, via WPS or through a local area network.
Expect the unexpected
If electronic devices are going to be spending significant amounts of time outside, it's essential to be prepared for unexpected events like showers and divebombing birds.
Invest in a protective laptop or tablet case, which ought to repel most aerial bombardments. As a bonus, it'll also shrug off being dropped onto flagstones or tarmac.
Tablets would benefit from a stand with a supporting arm so they can be propped up, allowing you to video call or watch tutorials without craning your neck or holding the device.
Sit away from objects which may fall over in sudden gusts (trampolines are notorious for this), and only leave devices unattended if the garden is completely secure.