On trial: Is Sky Broadband any good?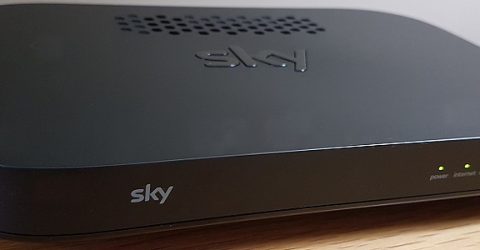 More UK households now have streaming media subscriptions than conventional pay TV services, but rumours of the broadcasters' demise have been greatly exaggerated.
Virgin Media subscriber levels have held steady over the last five years, balancing the loss of existing customers with ongoing rollout into new areas.
Sky has lost around 800,000 TV subscribers from its high-point in 2012, but the latest figures from BARB suggest they still have over 8.5 million subscribers.
Many of these customers will have signed up to a triple-play or quad-play package, bundling landline, phone and broadband subscriptions in with TV.
However, while Sky Mobile is effectively a rebranded version of O2, and the TV package is very similar to Virgin's offering, Sky Broadband is quite distinct.
The question is, does it deserve consideration alongside other broadband providers?
The hardware
The latest Sky Q hub is a diminutive lozenge-shaped device with prominent Sky branding across two sides.
It arrives in a compact box alongside two microfilters, a power lead and a DSL cable, plus a deliberately minimalist installation guide.
The entire setup guide is only around 200 words long, with enough diagrams to reassure even a hardened technophobe.
The lack of external aerials means signal strength is modest, but the hub uses any Sky Q TV boxes in the same property as range extenders, to boost its coverage.
There are only two Ethernet connections on the back of the hub, but a WPS button is provided for rapid connection with WiFi-enabled devices.
The infrastructure
Unlike arch-rival Virgin's fibre-to-the-premises cable services, Sky Broadband relies on the telephone network installed by BT offshoot Openreach.
This is usually fibre-to-the-cabinet, with lightning-quick data transfers to your nearest green pavement exchange box, followed by slower transfers via copper wiring into your property.
This throttles achievable bandwidth speeds, and it means most UK broadband providers deliver the same modest performance.
A quick speed check on the connection being used to research this article reveals download speeds of 16Mbps, with upload speeds hovering around 1Mbps.
That might seem shockingly slow to anyone used to Virgin's 200Mbps connectivity, but it's perfectly adequate for streaming The Grand Tour, or supporting a family of Spotify addicts.
If you're lucky enough to have fibre-to-the-premises in your area, Sky's Fibre Max elevates the 11Mbps average speed of its Broadband Unlimited service to 63Mbps.
However, it'll cost £10 per month more.
The packages
Rather like mobile phone contracts, broadband agreements are getting longer.
Sky asks new customers to sign up for 18 months, though you do get a competitive price if you're willing to take out a contract for this period.
We're currently advertising a deal for Sky Broadband Unlimited (the 11Mbps version) for £20 a month over 18 months, with a £20 setup fee.
The cheapest Fibre Max deal is £30 per month, with a more modest £10 setup fee – but as with the deal above, this doesn't include landline calls or TV.
Customers wanting anytime calls and Sky's Entertainment TV package will pay £43 a month for Broadband Unlimited and £53 per month for Fibre Max, both on an 18-month contract.