Should I set up an email account with my ISP?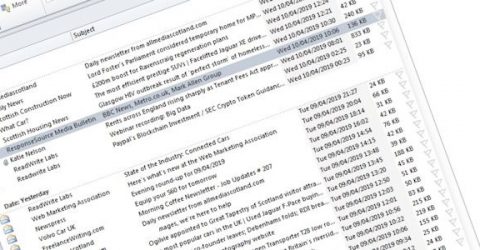 Despite predictions that social media and encrypted messaging platforms would kill it off, email remains central to our lives.
We use email addresses to log into online accounts, and to reset our account passwords when we forget them.
Email is the medium of choice for online order confirmations, and also the best way to ensure a complaint about those orders is acknowledged and responded to.
Email's importance in the workplace is hard to overstate, but personal accounts are also highly significant.
Little wonder that internet service providers are keen for new subscribers to open dedicated email accounts with them.
The checks are in the mail
Most of the UK's major broadband providers offer email services, though EE and Vodafone are notable exceptions.
ISP email accounts are provided free of charge, often advertised as being ideal for billing and invoicing purposes.
In reality, of course, these proprietary accounts aren't offered as an act of philanthropy.
They represent free advertising. Every time a sky.com email account lands in a non-subscriber's inbox, they might subliminally find themselves thinking about movies or sport.
Because ISPs are allowed to monitor emails they're responsible for delivering, they gain an insight into customer activities, which may be helpful in terms of targeted advertising.
Linked email accounts even help to stop customers from defecting to rival platforms…
Serious play
It's important to appreciate that ISP email accounts are a gilded cage, just like quad-play contracts and introductory deals.
Quad-play and discounted first-year incentives tempt people in, before annual price rises capitalise on the logistical challenges of disengaging from a multi-pronged contract.
Who has the time and inclination to negotiate a new broadband and landline provider, a new smartphone contract and a separate TV deal, all to take effect simultaneously?
Quad-play providers know people want an easy life, and will grudgingly tolerate rising expenses to avoid the complexities of switching to a different provider.
To a lesser extent, the same is true of those proprietary email accounts you're invited to set up.
Once your ISP is handling email provision, leaving becomes that little bit harder.
This is especially true as many proprietary ISP email accounts will be closed within a year of a former customer's final direct debit payment being received.
Some firms are even more proactive than that:
BT. It's possible to retain an existing BT email account beyond the firm's 60-day grace period after switching provider, by signing up to BT Mail Premium at £7.50 per month
Plusnet. Similar to BT, Plusnet email addresses may be sustained indefinitely by subscribing to the Mail Only service before leaving. This costs just £1.06 per month
Post Office. Accounts through the Post Office are only provided to current subscribers. Switch provider, and your Post Office email account will be closed immediately
Sky: Sky's reskinned Yahoo Mail service remains permanently available, though accounts will be deleted if they aren't logged into over a period of six months
TalkTalk. Customers are now able to access email accounts for a year, but, an account left inactive for six months will be deleted
Virgin Media. Former virginmedia.com account holders have 90 days to create a new email account and notify everyone about this new address, before their account is erased.
The safer option
Given our dependence on email, it's probably better not to open a proprietary ISP account – or if you do, use it purely for account-specific correspondence like billing and complaints.
The dangers of relying on non-specialists for email provision were underlined last year when email accounts belonging to former Tesco Broadband customers closed with little notice.
It's usually best to set up email accounts with specialist providers like Gmail. As you'd expect from Google, Gmail has an effective spam filter and a simple webmail interface.
A free Microsoft Outlook account is a good option for people who regularly use Office or Windows, while Mail.com and Yahoo Mail also provide cost-free communications.