The best laptops of 2019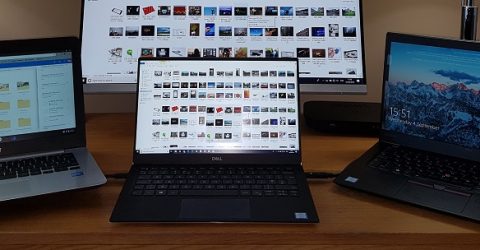 The end of a decade always inspires a period of reflection. Optimists hope the next decade will build on recent successes, while pessimists fear things will only get worse.
One thing that's unquestionably got better throughout this decade is the laptop computer.
Written off as defunct when tablets first emerged, design and functionality improvements have helped laptops to become some of the decade's most desirable computers.
To extract optimal results from your broadband connection, while being able to work on the move, these machines are all worth considering…
The best laptops of 2019
Best for flexibility Microsoft Surface Book 2
Rated by consumer body Which? as the best laptop on sale in the UK, Microsoft's renaissance continues with the two-in-one Surface Book 2.
Effectively a 13.5-inch tablet bolted onto a tactile keyboard, it offers a super-responsive 3000×2000 pixel touchscreen plus an accurate stylus.
Bolstered by sharp sound quality and separate batteries in both its screen and keyboard, the Surface Pro even functions as a games machine courtesy of an NVIDIA graphics chip.
Best for show-offs Apple MacBook Pro
For Apple devotees, nothing else will do. The latest generation MacBook is a compelling piece of hardware, and the 13-inch Pro is a particularly desirable model.
If you can get past its high price, a crystal-clear Retina display and streamlined OS X operating system make the Pro a doddle to use. Sound quality is exceptional, too.
A quad-core Intel i5 processor ensures a six-second boot-up, which is enough to challenge Google Chromebooks.
Best on a budget Acer Aspire 3
Cost-conscious shoppers should look no further than Acer's third-generation Aspire – one of the best laptops of 2019, irrespective of budget.
Offering grown-up features like a 180-degree screen hinge and a numeric keypad beside its tactile keyboard, it's possible to specify this affordable laptop with a 2TB hard drive.
Despite being fairly heavy and delivering modest battery life, the Aspire 3 remains a thoughtfully designed machine sporting an impressive screen.
Best for Android users Google Pixelbook
Google Chromebooks are normally stripped-down laptops running Google's Chrome OS instead of Windows or OS X. The Pixelbook represents a high-end take on this concept.
Clever technology ensures the Pixelbook is fanless, while its 1.1kg weight and 12.3-inch QHD screen are other impressive attributes.
Google's suite of free productivity tools is second only to Microsoft's iconic Office, while compatibility with Android apps makes this a hugely flexible tablet/laptop crossover.
Best for workaholics Dell XPS 13
Dell has historic associations with corporate customers, but its laptops sometimes lived down to the rather unkind Doesn't Ever Last Long acronym the firm became synonymous with.
The XPS 13 is Dell's MacBook Pro alternative. What it lacks in brand appeal, it makes up for by combining an impressively durable battery and a tactile touchpad/keyboard combo.
Dell specialise in bespoke builds, so buyers can specify hard drives from 256GB to 2TB, and even order Linux Ubuntu as the OS instead of Windows 10.
Best for students HP Envy 13
From a student's perspective, the Envy 13 is one of the best laptops of 2019, delivering everything today's undergraduates could need.
It runs Windows, ensuring Office compatibility. An 11-hour battery life handles long days in the library. An optional 4K screen and crisp speakers output streaming media effectively.
It even includes on-trend security features like a fingerprint sensor and a kill switch to power down the 720p webcam.