Best Before:
28 / 11 / 2017
Please be aware that some or all of the information in this article is out of date.
Any deals mentioned may have changed or may no longer be available.
Black Friday broadband deals: Vodafone £20 fibre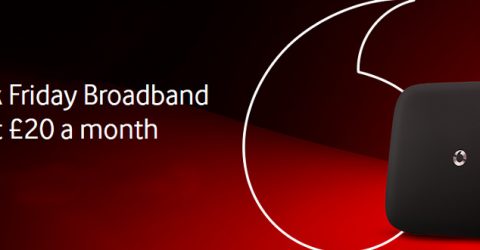 Vodafone has reintroduced its cheapest-ever fibre broadband deals ahead of Black Friday 2017.
Now you can get Unlimited Fibre 38 broadband for £20 a month, or the faster Unlimited Fibre 76 package for £25 a month.
Both deals come on 18 month contracts and are complete with no setup fees, free from postage or router costs. The price on the card is the total monthly price you'll pay.
If you need inclusive calls or TV all the lastest Vodafone Black Friday deals are here.
The last time Vodafone dropped prices to this level, back in September 2017, these deals flew off the shelves. Vodafone's own financial accounts show it added around 35,000 broadband customers in the last six months.
Pro Tip: If you go beyond your original 18 month deal, the package prices will rise by £5 a month to £25 and £30 a month respectively.
Vodafone promise guaranteed speed
During the first 10 days after installation broadband speed may vary while the line 'settles'. This is fairly standard practice across the broadband industry.
Vodafone is signed up to industry regulator Ofcom's Voluntary Code of Practice. This means they must provide you with a clear estimate of the line speed for both uploads and downloads you're likely to get, before you sign up.
When you click through to the Vodafone website through 'See Deal', and enter your postcode, the broadband speed you're likely to get will be displayed on screen.
Find out your access line speed
Type 192.168.1.1 into your web browser will open your Vodafone router's online portal
Where prompted enter the password vodafone (unless you've chosen your own). Once you're logged in, your access line speed will be clearly displayed by the image of the router
If your access line speed is lower than the minimum guaranteed speed promised at the point of sale, and Vodafone can't fix the problem within 28 days, you have the right to cancel your contract free of charge.
Call Vodafone Broadband Support on 08080 034 515, free from all UK landlines and mobiles, open from 8am to 11pm, seven days a week.

This deal closes on Monday 27 November 2017.