Are hardwired peripherals better than wireless ones?
The choice between wired or wireless has become more complex in recent years, as technology evolves.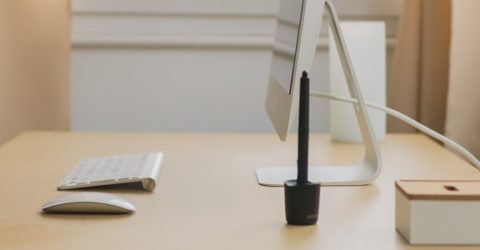 There's something very cool about wireless devices.
From headphones to printers, it's nice to escape the tyranny of bulky cables, especially if you're setting up a desktop computer.
A fully wired PC normally has numerous leads sprouting out of it, from yellow Ethernet cables to fragile keyboard and mouse wires.
Go wireless, and this tangled clutter magically disappears.
Yet putting aesthetics to one side, there are reasons why the choice between wired or wireless peripherals isn't so clear-cut.
If you're planning to invest in a new home office setup, replace an aged computer or simply buy new peripherals, here are the relative pros and cons of wired or wireless peripherals.
Wired for sound (and everything else)
The greatest benefit of plugging in a device – as any guitarist will tell you – is reliability. Cables rarely break, though they do fray or become disconnected.
By contrast, wireless devices are subject to all sorts of connection issues.
If they rely on WiFi to communicate, a home broadband outage will put them out of action, which could further reduce productivity at a time when you're already without internet access.
NFC products have very limited range, which is why they haven't been widely adopted in peripherals, though various readers and accessories are currently being marketed.
The most common form of wireless device connection involves Bluetooth.
Unfortunately, this takes place across the congested 2.45GHz radio frequency, which means signals may be affected by anything from car alarms to microwaves.
This may manifest as outages or interference, whereas a dedicated cable is literally shielded from external disruption by its protective casing.
Some devices have a binary connected/disconnected status, but others (like wireless speakers) may experience degradation or interference that diminishes their useability.
There's also the issue of charge to consider. Wireless headphones may run low on power after a few hours, and peripheral failure could be disastrous mid-interview or mid-game.
Speaking of gaming, latency has to be borne in mind. Even milliseconds of additional response time delay caused by relaying data wirelessly could affect gameplay to an extent.
We've previously covered latency – its causes, effects and possible resolutions – in a detailed guide to broadband for online gaming.
Nothing to see here
The main advantage of going wireless is the reduction (and often elimination) of cables. Not only are these unsightly, they have a nasty habit of getting in the way.
If you've ever had to pack up a desktop computer and a full complement of wired peripherals, you'll understand the challenges this poses.
Ditto trying to make a PC or Mac look attractive on a glass desk or display unit.
Wireless peripherals may require a plug-in transponder inserting into the relevant computer port, but these are far more practical and discreet than a short-length beige or grey cable.
They can also be positioned remotely – think of the advantages of wireless games console controllers, with no trip-hazard wires trailing across the floor.
Wireless devices also tend to be more stylish than their cabled brethren. They're often more tactile, too.
Plug and play (or don't)
If you're not used to setting up home electronics, trying to connect a printer across WiFi can be frustrating and time-consuming in equal measure.
The alternative is to plug in a USB lead which causes the computer to automatically detect the printer and download relevant drivers.
Your choice of wired or wireless peripherals may be affected by their complexity. Connecting Bluetooth headphones is usually far easier than setting up a wireless scanner, for example.
If you're about to purchase a larger item, it's worth investigating the setup procedure, to determine whether you could manage it.
The best of both worlds?
If you want the reassurance of a physical connection without an accompanying spaghetti of cables, laptop owners already have a partial workaround.
Docking stations accept up to a dozen inputs from devices like monitors, scanners and keyboards, feeding data through to a laptop via a single cable that also serves as a charging lead.
The merits of docking stations are well documented, especially since they can be hidden away to minimise their visual impact.