Do all new homes come with full fibre broadband as standard?
An increasing number of new homes come with full fibre broadband, but it's not something you can take for granted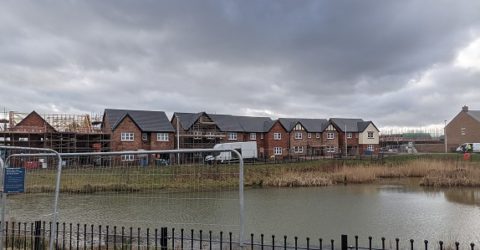 Earlier this year, Barratt Homes announced that all the properties they build in future will be pre-cabled with gigabit-capable broadband.
And where Britain's biggest housebuilder leads, other construction companies inevitably follow, aided by the meteoric growth of high-speed fibre broadband specialists.
The last decade has seen a variety of hyperfast, hyperlocal broadband companies springing up – Gigaclear in 2010, Hyperoptic in 2011, Grain in 2016, and so forth.
Each has developed its own proprietary network of full fibre broadband connectivity, usually focusing on new-build developments.
MoreHow to check broadband options for a new-build property
Digging up pavements is laborious and expensive, whereas installing cabling at the sewage-and-utilities stage is far more cost-effective for small infrastructure companies.
From Camden to Carlisle, it's increasingly common to find new homes come with full fibre broadband options from (often local) cable companies.
And that's before you consider the twin titans of Openreach and Virgin Media, who are rolling out hyperfast connections (over 500Mbps) as quickly as they can.
While Virgin's system is proprietary, dwellings with high-speed Openreach connectivity can sign up with any ISP capable of delivering rapid data transfers.
So do all new homes come with full fibre broadband? And if not, what should you look for when considering moving to a new home with new broadband?
Getting hyper
The availability of hyperfast broadband has become a key selling feature for housebuilders in the last year, as our lives have migrated online.
When every member of the same household is simultaneously attempting to hold a Teams meeting, complete course work, upload files to the cloud or watch Netflix, bandwidth becomes crucial.
And builders have rightly identified that the explosion in home working is driving demand for connectivity which won't buffer, lag or drop out.
With many people needing a dedicated home office for the first time, offering new houses with a spare room and a high-speed internet connection is a marketing no-brainer.
Visitors to new-build estates are increasingly leaving not just with a sales brochure, but also with a leaflet from the builder's chosen full fibre specialist.
However, not every developer has been so proactive.
The information superhighway's slow lane
Last year, the UK Government revealed one in five new-build homes across the UK is being sold without gigabit-capable broadband connectivity.
This is typically in smaller developments and more rural locations, where infrastructure is more expensive to install, and gigabit-capable infrastructure isn't locally available to tap into.
It may also be due to builders cutting costs, or simply working to pre-lockdown designs.
It can take many years for a housing scheme to be completed. One new-build estate in Glasgow is now eight years behind schedule, and established sites won't have been designed with broadband in mind.
Even so, the UK Government has pledged £5 billion to ensure gigabit-capable broadband is universally available, and new estates are a cost-effective target market.
I'm interested in a new home. What should I do?
Before reserving a plot, ask the sales advisor what connectivity the estate will offer.
You probably won't get far talking to ISPs without a valid postcode, and these aren't usually allocated until the first residents are close to moving in.
You also won't be able to provide a working telephone number (which is needed to acquire an accurate line speed estimate) for an unbuilt house.
Openreach aren't public-facing, so any enquiries to them will probably draw a blank, while other ISPs may issue a generic "we're not in this area yet but check back soon" response.