How housebuilders fit high-speed broadband in new homes
Full-fibre broadband in new builds is becoming commonplace as developers tempt potential purchasers with ultrafast connectivity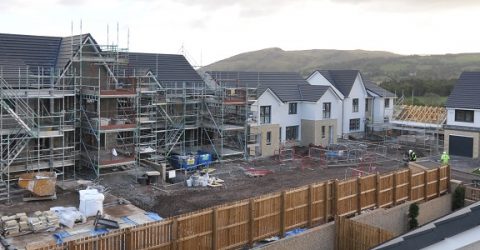 In the 1990s, housebuilders frequently listed BT phone points on the specification sheets of their new homes.
By the Noughties, they were offering features like Lablink I/O sockets as options.
Come the 2010s, builders began entering into partnerships with companies like Virgin Media, so high-speed connectivity was installed into developments at the groundworks stage.
And today, housebuilders trumpet the availability of high-speed broadband in new homes in their sales literature.
But how is this accomplished? And why is high-speed broadband in new homes being prioritised?
The why
Taking the last question first, rapid and dependable internet connectivity has become a cornerstone of modern life.
From the mid-Noughties, sales personnel at new-build developments were being asked about achievable line speeds.
This was fed back to senior management, who quickly identified that a fast internet connection could be a key selling point.
New home buyers are generally looking for more space, and even before Covid-19, growing numbers of people wanted a dedicated home office or workspace.
High-speed broadband has become as much of a selling feature as being able to choose your own Spanish tiles, or having a kitchen fitted with German appliances and soft-close units.
The how
Housing developments inevitably start with a bare plot of land – either greenbelt or brownfield.
This is the perfect time to install subterranean cabling for broadband, with no need to dig up roads or drill through pavements, and no council fines if works overrun.
MoreOpenreach adds over 10k new properties to full-fibre network
Broadband companies have recognised this, and some focus almost exclusively on adding their proprietary infrastructure into new-build developments.
The who
Meanwhile, builders have recognised that they're perfectly capable of laying telecommunications cabling alongside sewerage pipes and foundations.
Persimmon has its own ISP, FibreNest, and over 60 per cent of the properties it built in 2019 were connected to this network.
Back in 2013, Story Homes became the first housebuilder to offer 1Gbps connections to homeowners in Carlisle, by partnering with local infrastructure firm Solway Communications.
NewsHow fast is the full-fibre rollout?
Firms like Hyperoptic have since matched this feat, delivering gigabit speeds at a time when many homes are still hobbled by 10Mbps ADSL connections over phone lines.
The what if
Don't assume every new house will come pre-installed with a broadband connection suitable for watching The Grand Tour in 4K, or playing Destiny 2 all evening.
Smaller developments provide fewer economies of scale for expensive broadband cabling, and rural estates may be too far from existing infrastructure.
While figures released in October suggest 97.5 per cent of new homes enjoy superfast connections of 30Mbps or faster, that still means almost 5,000 homes built in 2019 didn't.
The figures for 2020 will be lower for two reasons – greater roll-out of high-speed broadband, and a massive drop in new-home completions due to lockdown.
High-speed broadband in new homes may not be guaranteed, but it is the norm rather than the exception.