How broadband connectivity has transformed our TVs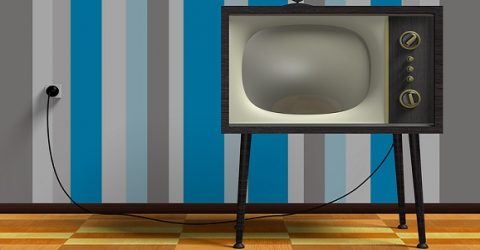 It's easy to forget how crude televisions were in the 20th century.
They passively piped information into our homes at a time of the broadcasters' choosing, and interactivity was limited to turning the channel and volume dials.
In the 1980s, remote controls and Ceefax/Teletext suggested TVs could be more than just a conduit for BBC and ITV scheduling.
Even so, few people foresaw the 21st century evolution into multimedia hubs.
Modern televisions offer far more interactivity than formerly comparable devices like radios.
Cost isn't a barrier to adoption, either. It's possible to buy a 32-inch LED TV with full online connectivity for under £175.
But what features do smart TVs come with? And are these services worth having?
Think smart
To be described as 'smart', a television set needs to offer internet connectivity.
This involves either a WiFi signal or an Ethernet cable plugged into a broadband router.
The ubiquitous remote control may support voice recognition, gesture control or even handwritten character inputs, to simplify data entry and search functionality.
These are some of the features consumers ought to expect from a typical smart TV:
On-demand content. Being able to download recently broadcast programmes has effectively rendered VCRs and DVD recorders obsolete.

Broadcasters tend to make their flagship programmes available for a week, though live content like news and sport is rarely added to catch-up listings.

Apps. TV manufacturers have developed proprietary app stores, typically focusing on streaming media services such as Spotify, Netflix and Amazon Prime.

These apps make smart TVs a catch-all resource for lifestyle activities, enabling everything from takeaway orders to taxi bookings to be managed in one place.

Gaming. Each manufacturer has its own approach to this, with different titles and control methods. Some high-end TVs have movement-responsive remotes, intended for gaming.

Samsung and Sony offer a selection of games through PlayStation Now. Other manufacturers harness Google Play store compatibility, with loads of Android titles ready to install.

Mirroring. Viewing photos and videos on a five-inch smartphone screen can't compare with watching it on a 42-inch TV linked to a soundbar or surround sound speaker system.

The process of casting or mirroring redirects phone screen content to a nearby TV, often simply by tapping an on-screen icon.

Internet usage. Because these devices are connected to domestic broadband routers, they're able to support everyday activities like web browsing and social media use.

It's even possible to eliminate the inconvenience of using a numerical keypad to enter letters, since most smart televisions support Bluetooth accessories like wireless keyboards.

Wider connectivity. Some of the more sophisticated TVs are now able to integrate with other connected devices around the home, such as alarm systems and lighting.

The simplicity and speed of voice control is typically delivered through virtual assistants, most commonly Google Assistant or Amazon's Alexa.
The drawbacks
Although it's hard to buy a new TV without internet capability, older consumers sometimes find the installation procedures and proprietary app stores unduly complicated.
Online functionality obviously requires a stable internet connection, which can drain available bandwidth for other devices around the home.
Software glitches are commonplace, when apps refuse to open or cause the picture to freeze.
Security is also less comprehensive on TVs than on tablets or laptops – this isn't the place to manage online banking.
Nevertheless, the advantages of smart TVs far outweigh their drawbacks, which is why few sets are currently sold without Ethernet sockets and WiFi connectivity.