How do I cast BT Sport to my TV from my mobile?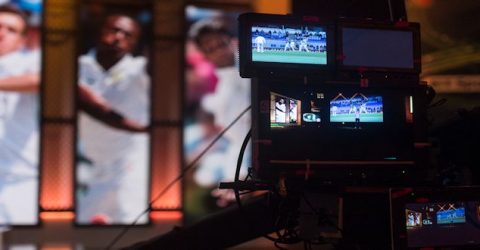 If you're a cricket fan, you've probably been tempted to sign up to BT Sport in recent months.
Although England's summer test matches used to be broadcast on terrestrial telly with Channel 5, the Ashes are the latest sporting event to move to a subscription-only broadcaster.
Fortunately, BT Sport is widely available on mobile devices, through the BT Sport app.
However, if you want to enjoy the Ashes (and other BT Sport exclusives like Champions League football) on your TV, you might need to cast it.
What does 'casting' mean?
Casting is the process of mirroring the contents of your smartphone screen onto a larger device, like a computer monitor or television.
It's great for watching live entertainment on a big screen, rather than squinting at your smartphone trying to spot the ball – or read tiny scoreboards and graphics.
However, there are various restrictions on casting BT Sport from the mobile app. To do so within the terms of your policy, you need either Apple TV or Google Chromecast.
Here is our guide to casting from a smartphone or tablet onto the big screen, so you can enjoy the big match experience in full.
How to cast BT Sport on Apple TV
Apple TV is now into its fourth generation, and an easy-to-use interface makes it simple to cast BT Sport from another Apple device.
If your device has a version of iOS older than 9.0.2, it's advisable to update it before attempting the following steps:
Put your TV onto the HDMI channel with Apple TV connected. For instance, if the Apple TV box is plugged into your TV via the HDMI 1 port, change your input to HDMI 1.
Load your BT Sport app as normal.
When your iPhone, iPad or iPod detects Apple TV, the video player will show a compact Airplay icon – a triangle at the bottom of a rectangle.
Tap the Airplay icon and choose Apple TV from the menu.
At this point, your BT Sport feed should disappear from your mobile device and display on the TV instead.
How to cast BT Sport on Chromecast
Smaller and more affordable than Apple TV, Google Chromecast has been a huge hit following its launching in 2015.
It's operated through a mobile app rather than a remote control, and the latest Chromecast Ultra even supports 4K streaming.
Unlike Apple TV, Chromecast can be used with Apple or Android devices, and both mobile operating systems rely on the same setup method:
Connect your Chromecast to the same wireless network as the Android or iOS device you want to connect to.
Ensure your TV is set to the HDMI channel with your Chromecast plugged into it.
Tap the casting icon that appears in the app screen's top right corner – it looks like a rectangle with three circles at the left hand side.
Choose the Chromecast device you want to connect to, from the list that appears.
The cast icon will turn white, and streams will be directed to the TV once they've loaded onto your mobile device.
When you've finished watching, tap the cast icon once and click Stop Casting to cancel the connection.
Common problems and troubleshooting
You can only watch two different streams at once, but there are no restrictions on how many supported devices can display those streams at any given time.
If a problem occurs, an error code will display. Definitions for these codes are provided on the BT Customer Help website.
Common error codes on mobile devices include VC011 (usually caused by a lack of internet connectivity), CT001/2 (when content you're trying to view is unavailable) and ID001 (if your username or password aren't recognised).
Error codes on computer browsers are usually different, and a full list of these is available here.
Copyright restrictions
Like its arch-rival Sky, BT has imposed various restrictions on how its content may be viewed. That extends to mobile app subscriptions, too.
EE customers currently receive up to 18 months of BT Sport free with certain mobile contracts, but only via their device's mobile app. For contractual reasons, EE customers aren't able to share app content through Chromecast or Apple TV.