How do I get a phone line installed?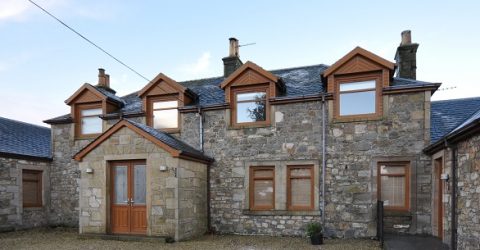 In the 20th century, telephone lines represented a vital link to the outside world.
Indeed, phone lines became so ubiquitous that we stopped noticing them.
That still holds true – did you consciously identify the presence of a black cable in the photo above, before we drew your attention to it?
Established properties are almost always connected to a local phone mast, en route to the spaghetti of cables comprising our telephone network.
But what happens if you're building a new property on a brownfield site, or restoring a tumbledown cottage far from the madding crowd? We do cover some no landline broadband deals – but they all rely on using someone's cable somewhere, so even if you aren't buying it from the ISP, you still have to pay for it.
Your legal rights
Openreach is the company responsible for installing telephone lines into domestic dwellings across the UK.
They are bound by a universal service obligation to make sure everyone has a line in place.
This was previously the remit of BT, but Openreach adopted the responsibility when it was spun off into a dedicated infrastructure brand.
Openreach is legally bound to consider any request for a new connection to the exchange.
For suburban properties, getting a phone line installed shouldn't pose a problem, and installation ought to be carried out without undue delay.
However, issues might arise if you're looking to establish a connection to an uninhabited island in the Outer Hebrides.
(There were 66 of these at the last count).
Things should be easier if you're on the mainland, but there may still be challenges involved in connecting a remote property to the nearest exchange.
Cutting costs, not corners
Openreach has the right to charge a fee for connections, but costs vary according to the amount of work required in each location.
It all depends on network availability – and how many individual connections are involved.
Sharing the cost with other people represents an obvious way to reduce expenditure when getting a phone line installed.
What about broadband?
If you're in an area close to any of the main networks, you should be able to get a provider to install a new phone line for you fairly easily. They may charge you for this – if you're looking at our best broadband deals, make sure you use the 'include new line installation costs' filter on the left.
However, if you're in a rural area, it may be more difficult. Rather than installing a phone line and then signing up for broadband, why not kill two birds with one stone?
There have already been 700 Community Fibre Partnerships established around the UK, where remote communities co-fund the installation of fibre broadband services.
These schemes are also managed by Openreach, with a variety of grants, loans and public assistance on offer to local community groups.
Without fibre broadband, line speeds may be throttled by your distance from the local telephone exchange, and other factors outwith your control.
Ofcom is presently consulting about a Government-mandated universal service obligation for broadband connections in the UK, with a proposed minimum line speed of 10Mbps.
That's enough for web browsing and Skype calling, though it'd struggle to support 4K streaming or FPS gaming.
However, even a relatively sluggish phone line will establish an internet connection to the outside world. Although you might be better off with mobile broadband if you can stomach the data limits.
In this day and age, not having the internet seems much more frightening than not having a landline installed.