How to choose a PC for gaming
Our gaming PC buying guide explains what to look for when buying a rig to run today's most resource-intensive software titles.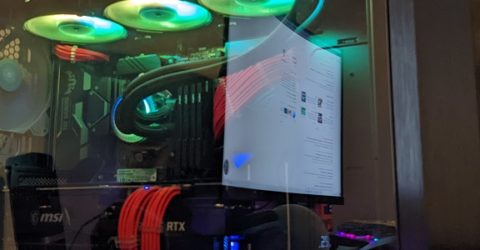 While the fifth generation Sony PlayStation and the fourth-generation Microsoft Xbox are fine gaming machines, they still can't compete with the power of a high-end PC.
Fans of complex or immersive titles have historically favoured the keyboard inputs and mouse-controlled cursors of PC games over their games console siblings.
That's before you get to PC-only titles like the long-awaited Kingdoms of the Dump or Baldur's Gate III.
In this gaming PC buying guide, we explain what to look for when choosing a high-end machine for running the latest and greatest games.
(We're assuming you have a basic understanding of industry terminology. If you don't know your base clock from your boost clock, an off-the-shelf PC will probably suffice.)
1. A super-wide monitor
Put aside 1920×1080 resolutions on a 16:9 monitor – today's immersive PC screens extend to 5,120×1440 pixels, outputting truly cinematic widescreen displays.
Curved monitors are only really suitable for single players, potentially distorting from even a modest viewing angle, yet they look spectacular front-on.
A 21:9 screen will be more affordable than the 32:9 ratio often referred to as super ultra-wide, which also brings disadvantages in terms of size and cost.
Older games are less likely to support 32:9 ratios, making 21:9 a safer option for anyone who isn't satisfied with a twin-screen setup.
2. Plentiful RAM
Some gamers swear by a parallel pair of 8GB RAM sticks, which can bring a noticeable performance uptick compared to a single 16GB stick.
However, 32GB will future-proof any gaming rig, offering optimised performance during intensive activities like live streaming or content creation.
Until DDR5 RAM becomes more established, we'd stick with DDR4, though Intel have acknowledged the future by upgrading their 12th generation Alder Lake CPUs to DDR5.
3. A powerful graphics card
Consumer PCs tend to have graphics cards which max out at 1920×1080 resolution, and which would rapidly burn out if asked to handle Crysis 3 or The Elder Scrolls V.
Your choice of cards effectively comes down to Nvidia or AMD, with the former's GeForce and the latter's Radeon offering truly ridiculous performance on high-end models.
Nvidia's GeForce RTX 3080 can handle 29.76 TFLOPs per second, while AMD's Radeon RT 6800 XT can be boosted to 2,250MHz.
Look for 4K performance, around 500GB/s of memory bandwidth and roughly 5,000 cores – collectively outputting spectacular image processing and rendering.
4. Extensive cooling
The ROG tower in the photograph accompanying this article includes ten fans and water cooling, underlining how hard modern gaming PCs need to work.
Fans are now an aesthetic feature in their own right, with shimmering LED lights accentuating their near-silent rotation inside heat-dispersing tower casings.
The CPU and GPU will both need temperature management to maintain optimal performance during heavy load, so look for devices which display live operating temperatures.
It's even possible to colour the coolant underpinning any cooling kit, delivering an added dose of visual drama alongside dynamic wallpapers and polychromatic fans.
DIY?
Until fairly recently, we would have recommended the self-build route in any gaming PC buying guide.
Sadly, geopolitical events are currently hindering the supply of key materials.
Unless you're willing to wait months for specific components, it's safer to buy a ready-assembled rig and avoid sudden price rises once specific hardware comes back into stock.
Manufacturers like HP and Lenovo often receive priority access to key manufacturing components, making this a safer – if less personalised – route to gaming PC ownership.
One more thing…
Physical media games sales continue to dwindle, especially in the PC arena. That means downloading often huge game and update – and that could well mean hours of waiting around before you can play.
If you want to future-proof your gaming, it's not just the PC you need to consider. Broadband speeds are rising, and if you're lucky enough to be in a full-fibre broadband area, you could find upgrading makes a big difference to your online gaming experience!
Check out the top offers on broadband for gaming. Alternatively, enter your postcode below to find the best broadband deals in your area.