How to find great photographs online
Being able to find great photographs online can transform your website, social media timelines and online presence – especially if you're not a natural photographer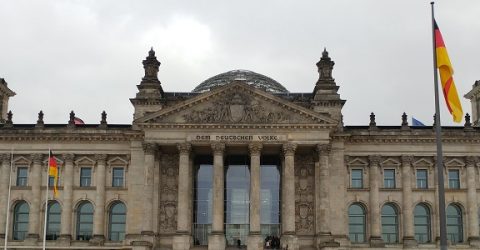 The world is hardly short of online content.
There are 1.75 billion websites in existence, and even more Facebook accounts – though how many of them are (a) active and (b) controlled by real people remains a topic of fierce debate.
As restaurants hesitantly reopen their doors, you'll almost certainly spot someone Instagramming either their food or their drinks.
Meanwhile, YouTube is the world's second most visited website and the second largest search engine, beaten only by parent company Google.
With so much competition for eyeballs, making your own online content stand out is a huge challenge, whether you're setting up a small business or creating a hobby website.
One thing necessary to ensure your online presence stands out is high-quality photography.
The image accompanying this article was taken by your correspondent on a trip to Berlin. It's well-framed, symmetrical, brightly lit and free of foreground clutter like people.
Sadly, it's not available for reuse anywhere else.
However, it's surprisingly easy to find great photographs online which are available for commercial reuse, editing or copyright-free reproduction.
Pay and display
The traditional approach to this challenge is to create an account with one of the world's leading image libraries.
Shutterstock alone has over 350 million images available for commercial or personal reproduction. Most have been taken by professional photographers, and all are high-quality.
However, this option isn't cheap. One small image from Getty will cost £150 to download, while ten large images will cost you £3,200, even as a bundle.
That's a million miles beyond the budgets of most homespun enterprises and hobby websites. And this might steer you towards another source…
Free to air
If your budget is non-existent, it's possible to find great photographs online at free image depositories.
Wikimedia is perhaps the best known of these, hosting over 65 million freely usable media files which anyone can contribute to or download.
There are also commercial platforms like Unsplash and Pexels, where philanthropists and photographers looking to make a name for themselves upload photos.
Images are free to reproduce, though it's strongly encouraged to credit the photographer for their contribution.
Sites like Pixabay also allow you to make a token payment to the artist for their work. This is often referred to as 'buying a coffee', since contributions are usually just a few pounds.
Search and ye shall find
The third most popular way to find great photographs online is through a search engine.
Google and Bing both retain vast depositories of images which have been uploaded to the internet over many years.
Many of these are copyrighted, but it's possible to conduct searches which only return results that can be freely reused.
On Google, you'd find these by entering a search term and hitting Images, before going to Tools > Usage Rights > Creative Commons licenses.