Internet options in remote communities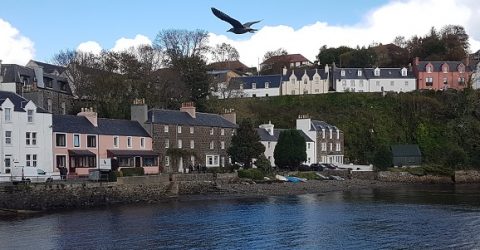 Despite having many densely populated urban areas, the United Kingdom remains surprisingly rural.
In areas like Argyll & Bute or County Fermanagh, locals regard a town as anywhere with over two thousand residents.
The photo accompanying this article shows Portree on the Isle of Skye – the largest population centre in the Inner Hebrides.
Yet you won't be able to get Virgin Media or Hyperoptic fibre broadband services up here.
And by the time you venture a couple of miles outside Portree, as with many rural parts of the UK, any form of domestic internet connection could prove a challenge.
Fortunately, there are always ways of getting online…
Community broadband
Getting online in remote areas can sometimes be accomplished by Community Fibre Partnerships.
This Government-supported scheme is run in association with Openreach, enabling a group of people to co-fund infrastructure.
There are already over 700 examples of successful Community Fibre Partnerships, bringing the information superhighway to 'notspots' in every corner of the UK.
A trunk line is installed, which individual properties can tap off to gain high-speed fibre broadband services.
Grants and local authority funding may be available, along with Government voucher schemes, though installation costs remain significant.
However, any cabling installed will be fibre optic, delivering connection speeds many suburban subscribers would be envious of.
Once the infrastructure is in place, each resident or household can negotiate separate broadband deals for getting online, according to their own data needs and monthly budgets.
We list hundreds of active broadband deals on this site, enabling newly-connected consumers to choose the package and pricing model which suits their unique circumstances.
4G dongles
Mobile broadband has improved hugely in recent years, and 4G generally provides a stable internet connection – providing you're not trying to stream The Grand Tour in 4K.
The UK's big four mobile networks provide 4G coverage in many of the UK's most remote locations.
If a smartphone connection isn't sufficient, they also sell two types of 4G dongles:
USB sticks, which plug into a device and operate through a proprietary interface
Portable MiFi hubs, creating a local area network for several wireless devices.
4G mobile data is usually sold in gigabyte bundles, so moderate usage is advised when getting online.
The strength of your 4G signal may also be affected by hilly terrain or bad weather, while high user demand could cause fluctuating connection speeds.
Satellite broadband
If you're unable to secure a decent line speed (or any line at all), why not cut out the middleman?
Satellite broadband involves a dedicated dish being installed outside your home (usually at considerable expense), which receives data from fixed-position satellites orbiting Earth.
The dish will generally measure 75cm in diameter – larger than the 45cm mini-dish used by Sky in southern Britain, though Sky customers further north generally receive a 60cm dish.
Any building with a clear view of the sky should be able to receive a signal, though latency is an issue due to the distances data has to travel. Severe weather may also create issues.
This is a very expensive option, and many satellite broadband subscriptions have restrictive monthly data caps.
On the plus side, there's no need for a phone line – something almost every other broadband provider will insist upon when you sign up.
Speeds are generally comparable with a standard Openreach telephone line, with up to 50Mbps currently being offered.