The pros and cons of buying a second-hand laptop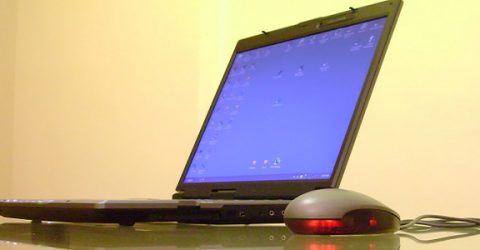 The days of laptops being heavy and sluggish desktop impersonators are behind us, as a new generation of hardware reaches the market.
Streaming media addicts use affordable Chromebooks, fashionistas flock to MacBooks, and everyone else gets to choose between an array of lightweight yet powerful laptop PCs.
From detachable screens to high-end graphics processors, there's a machine to suit everyone.
And despite claims earlier this decade that tablets represented the future, global tablet sales have almost halved since 2014, whereas laptop sales in 2018 hit a five-year high.
Tablets rarely provide full-size keyboards, 15-inch screens or the ability to use an Ethernet connection for optimal connection speeds.
Sadly, modern laptops aren't always cheap.
A premium machine in a department store might cost up to £3,000, though its specifications should remain cutting-edge til the early 2020s at least.
And while Chromebooks represent the affordable end of this market, they're not suited to peripherals, software installations or anything beyond web browsing and media consumption.
As for Apple's iconic MacBook range, their tactile design and user-friendly operating systems also command a high price.
Something old, something nearly new
If you've got Champagne tastes but a Prosecco budget, one option might involve buying a second-hand laptop.
This can bring a designer badge or state-of-the-art specifications in at a temptingly low price.
It's possible to save a couple of hundred pounds on a refurbished MacBook Pro, and twice as much buying a second-hand variant.
Refurbished laptops have been restored by a manufacturer or retailer to something approaching showroom condition, and they usually benefit from a warranty.
They're often graded using letters. A might signify an unused but returned item, B involves purely aesthetic wear and tear, and C denotes a worn but still fully functioning model.
A conventional resale transaction commands fewer assurances for the buyer (caveat emptor, as the Romans used to say), but it will come with a commensurately lower price tag.
But does that initial saving represent a false economy in the long term?
Advantages of buying a second-hand laptop
Cost. It's the main argument in favour of buying anything used. Nobody in Costa will know your HP Spectre was second-hand – and you might forget yourself after a while.
Legal protection. Buying in a shop invokes the Consumer Rights Act, with 30 days to reject unsatisfactory goods. With online purchases, you get 14 days to reject a laptop.
Warranty. Buying from an authorised reseller or directly from the manufacturer could bequeath you a warranty of up to three years – longer than on some new computers.
Brand choice. A £500 budget might limit you to cheaper new models, whereas the same budget may secure a refurbished machine from a more prestigious manufacturer.
Environmentalism. We're all aware of our environmental footprint. An existing laptop has no ecological impact, but ordering a new one consumes lots of natural resources.
No teething troubles. New devices can have glitches, missing software or other minor issues. Buying pre-owned tends to mean out-of-the-box snagging has been resolved.
Drawbacks of buying a second-hand laptop
Presentation is often lacking. While refurbished machines should come with original packaging, instructions and chargers, second-hand laptops may lack any of this.
New software often runs slowly. Older processors could struggle to power memory-intensive modern software applications like Windows 10 or video editing tools.
Battery life often dwindles. An irresponsible owner who kept charging the battery when it wasn't low will have shortened the life of certain cells, reducing time between charges.
Lack of choice. You can't customise old laptops as you could when ordering a new one. Someone else has chosen the specifications, chassis colour and everything in between.
Components might fail quickly. Charging ports and screen hinges receive heavy day-to-day abuse. Trackpads are prone to fail, and individual screen pixels may start to die.
Theft risk. This doesn't apply to refurbished laptops, but a For Sale sign in a newsagent window (or on Gumtree) might potentially be an attempt to fence stolen goods.