What are Crown Jewels sporting events?
Despite attempts by streaming services to muscle in on crown jewels sporting events, the government are determined to maintain a degree of free-to-air coverage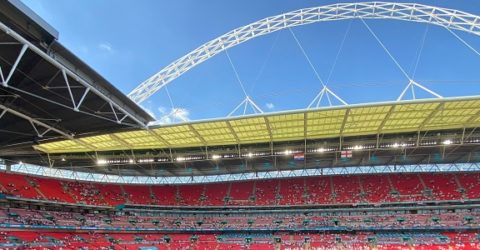 Summer is less than a fortnight away, when sporting events routinely take centre stage.
Football and rugby may be winter sports, but summer is the season of cricket, tennis, golf and many other weather-dependent events.
In recent years, there's been a trend for some sports to be broadcast by Sky, or the growing array of streaming platforms competing for our money.
Yet some events will never be paywalled, or only offered to subscribers.
These are known as crown jewels sporting events, and they represent a key weapon in the terrestrial broadcasters' fight against Sky, Netflix, Amazon Prime and others.
Box to box action
Despite being our national sport, live domestic football coverage is largely the preserve of Sky (and occasionally Amazon), with terrestrial broadcasters limited to highlights packages.
At the start of this month, it was announced that Channel 4 will now broadcast the England team's competitive internationals until 2024 – Nations League, European qualifiers and all.
However, the other Home Nations haven't been so considerate. They've all signed up with a new Scandinavian platform called Viaplay, which is yet another entrant in the increasingly crowded streaming market.
Fortunately, the international European Championships and World Cup are protected as crown jewels sporting events.
This list of high-profile events was compiled by the Independent Television Commission in 1996, before being rebranded as the Ofcom Code on Sports and Other Listed and Designated Events.
Created in response to the rapid growth in Sky uptake during the 1990s, it ensures the public doesn't have to pay for sporting coverage which is deemed to be of national interest.
These events must be carried on a broadcasting service available via Freeview, without a subscription. Eligible broadcasters include the BBC, Channel 4 and ITV.
The absence of Channel 5 from this list is because its My5 streaming service isn't available on enough platforms.
While subscription platforms and satellite broadcasters may share crown jewels coverage, they must be broadcast live on terrestrial television.
As well as FIFA and UEFA tournament football, the FA Cup Final is on the list. Rugby League is represented by the Challenge Cup final, and Union by the World Cup Final.
Wimbledon is a crown jewels event, alongside the Grand National and Epsom Derby, while the Olympic and Paralympic Games make the cut.
Attack of the killer Bs
The above events are known as Category A events, and their broadcast rights are inviolable.
Then there are Category B sporting events, which can be shown exclusively live on pay platforms providing there's extensive secondary coverage by terrestrial broadcasters.
(Secondary coverage is usually defined as delayed terrestrial broadcast, or comprehensive highlights packages.)
B events include the Six Nations rugby, the Commonwealth Games, the Open and Ryder Cup golf tournaments, domestic England test matches and the Cricket World Cup.
Nations League football is also on this list, which is why its recent capture by Channel 4 represents a good-news story for households without multiple streaming subscriptions.
Shouldn't there be more Category A events?
This has been a contentious issue for some time, with the rights of public spectators and the need for coverage pitted against the financial demands of large sporting organisations and sponsors.
The UK Government is presently attempting to add the equivalent women's sports to any men's coverage already included in Category A.
However, you'll look in vain for live Formula One coverage or league cricket coverage on either category list, and there's no prospect of them being added in the foreseeable future.