What broadband speed can I get?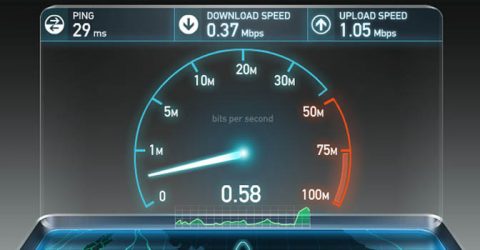 The laws on advertising changed a couple of months ago, to ensure broadband speeds are accurately depicted by service providers and network operators.
Broadband speeds quoted in an advert must be available to at least 50 per cent of prospective customers at peak times.
However, this is still a fairly crude approximation of real-world line speeds.
Numerous factors can affect achievable broadband speeds, including proximity to the nearest on-street cabinet and the efficiency of domestic hardware.
It's therefore vital to conduct some basic research before signing up for a contract of twelve months or more.
Check postcode coverage
The first place to start is with a broadband deals postcode checker, such as the one on our homepage.
These outline whether ADSL and/or fibre broadband are available at a particular address, with details of the maximum line speeds consumers could theoretically achieve.
This is only a guide – while Virgin Media offer up to 300Mbps connection speeds, average speeds down their fibre broadband lines are more likely to be between 50 and 100Mbps.
For more precise estimates, you'll need to speak to individual service providers.
The BT website gives estimated average speeds to a fraction of a megabit per second – better known as Mbps.
Speeds are calculated based on a provider's understanding of the infrastructure leading to a specific property, usually picked from a drop-down list after conducting a postcode search.
Investigate fibre broadband availability
Fibre optic cables are capable of transmitting data far faster than the copper wires used in asymmetric digital subscriber lines.
ADSL is the province of BT offshoot Openreach, while fibre was traditionally the domain of Virgin Media after it acquired Telewest and NTL.
Today, fibre broadband is available to 95 per cent of the UK population – but there are big disparities in performance.
Virgin Media tends to provide the fastest line speeds, but their twin-core broadband-and-TV cables are only available to around three fifths of the UK population.
Despite considerable investment in network infrastructure, you'll struggle to match Virgin line speeds through broadband services provided down a phone line.
Unlike Virgin's fibre-to-the-premises offering, many firms provide fibre connectivity to the nearest exchange, with an older copper cable completing the journey to your phone socket.
Even so, most broadband accounts will be capable of streaming Netflix and playing PS4 games online.
Study existing customer satisfaction levels
Various reports have been published over the last year, providing a telling glimpse into the experiences of customers throughout the UK.
For instance, consumer body Which? published an in-depth broadband satisfaction survey earlier this year.
Zen Internet and Virgin Media were the only providers achieving five stars for speed, while seven firms achieved a disappointing three-star score.
(In case you were wondering, three-star brands listed in the Which? report included Sky, BT, John Lewis Broadband, Post Office, TalkTalk, EE Broadband and Utility Warehouse.)
Remove any brakes on performance
Achievable broadband speeds are affected by various factors around the home. These tips help to ensure actual download speeds resemble the ones in marketing literature:
Ensure you have the latest router model from your chosen broadband provider, since new models usually project a stronger signal across a wider area
Position the router centrally in the home, away from thick walls and a few feet above the floor
Reboot it periodically, since performance often deteriorates over time
Try different frequencies or channels, to reduce interference from other electrical objects like microwave ovens and alarm systems
Invest in a Powerline adaptor, which effectively hardwires devices to a router using a combination of Ethernet cables and power points.