Which broadband provider has the best router?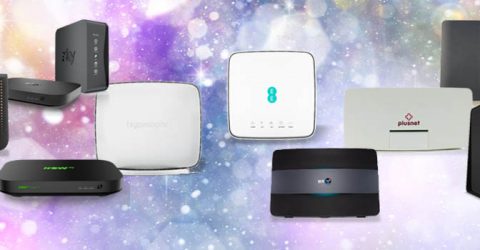 As broadband internet reaches your home, its first port of call is a router or hub.
This compact plastic oblong receives the hardwired data stream and distributes it round the house, enabling wireless devices to connect to it.
Unfortunately, not all broadband routers are created equal.
And since each provider uses its own hardware (usually manufactured by a third party), your consumer experience will be affected by more than just overall line speed.
For instance, the latest N series routers are capable of distributing wireless data at an impressive 100Mbps, so try to choose a device advertising itself as 802.11n.
Any half-decent broadband router should also offer WPA2 security, to protect data as it's transmitted around the home.
What's in a name?
Broadband companies rarely develop their own router hardware.
Despite proudly displaying red infinity-sign logos, the Virgin Media SuperHub 3 is manufactured by a firm called Arris.
John Lewis use different manufacturers depending on whether a customer has subscribed to an ADSL or fibre package – a Netgear router for the former, and ZyXEL for the latter.
So how do broadband routers compare among the UK's big internet providers?
BT Smart Hub
BT used to supply a Home Hub to broadband customers, and the last version was its fifth iteration.
The replacement Smart Hub improves on the Home Hub 5 by incorporating a built-in 4G filter for the first time, and containing seven internal antennas to its predecessor's five.
(Few broadband routers have visible aerials nowadays, apart from high-performance models designed to cover larger properties).
Like most of its rivals, the Smart Hub broadcasts on either the 2.4 or 5GHz WiFi bands – being able to switch might be beneficial if other wireless devices are causing interference.
The Smart Hub can also be set to different channels for the same reason, with 1, 6 and 11 the most common choices.
EE Bright Box 2
Although the first generation EE Bright Box was pretty dated, its successor offers all the features required by modern consumers.
It has N-rated performance, dual-band frequencies and Gigabit Ethernet capability.
In truth, there's very little difference between the Bright Box and BT's Smart Hub, apart from their appearance.
Plusnet Hub One
It's easy to spot a family resemblance in the Plusnet Hub One, which looks like a negative of the final-generation Home Hub from parent company BT.
Even the removable login details card seems familiar, and the flashing error symbols are another nod to its heritage.
Unlike many of its competitors, the One has a USB port for connecting a printer or smart speaker. Four Ethernet ports further enhance connectivity.
The usual dual-band and N frequencies are present and correct, while the One improves on its predecessor by offering compatibility with fibre-to-the-premises connections.
Sky Q Hub
Like BT's Home Hub series, the Sky Hub was a venerable old warhorse serving up limited performance.
The Q Hub is designed to dovetail with Sky's new TV boxes, making the latter into wireless repeaters to create a larger coverage network than a solitary router ever could.
This is the first Sky product to have twin-band coverage and Gigabit Ethernet connectivity for super-fast hardwired data transfers.
During testing, the Q Hub transmitted wireless data 16 times faster than the old Sky Hub, while the range-extending satellite units should be able to fully cover a home of any size.
However, it only has two Ethernet ports, and no USB socket for printers or webcams.
TalkTalk WiFi Hub
Another measure of the progress being made with broadband routers can be glimpsed over at TalkTalk.
They are currently in the process of rolling out a new WiFi Hub, replacing the misleadingly-titled Super Router.
Though the latter was mediocre at best, the new Sagecom hub is a dual-band seven-antenna system strongly resembling BT's Super Hub.
Unlike Sky's latest offering, it has four moderately fast Ethernet ports for hardwiring devices, though it mirrors the Q Hub's lack of a USB socket.
TalkTalk claim the new hub is capable of supporting 50 devices at once, coupled with simultaneous dual-band WiFi for minimal interference.
It's even been designed to fit through a letterbox, so you don't have to wait in on delivery day.
Virgin Media SuperHub 3
Sporting perforated sides and contrasting materials, Virgin's SuperHub 3 makes a stylish addition to a sideboard or console table.
While it takes longer to boot up than most of its competitors, signal strength is good – and it copes admirably with the superfast connectivity piped down Virgin's FTTP cables.
Unfortunately, that means the SuperHub has to be positioned near the cable entering your home, restricting its potential locations – other hubs can be plugged into any phone socket.
The verdict
Sky's Q Hub makes ingenious use of wireless set-top boxes as signal repeaters, but it (and the ultrafast Virgin SuperHub) will only be of interest to people looking for combined TV and internet packages.
Sky's router lacks sockets for attaching other hardware, while Virgin's hub can't be moved around the home.
The other systems should all be capable of meeting any family's internet requirements – unless you require USB connectivity, which rules out TalkTalk's product.
Some might find Plusnet's router rather unappealing to look at, and it's based on the predecessor to BT's Smart Hub – arguably the best router on the market.