Best Before:
02 / 11 / 2017
Please be aware that some or all of the information in this article is out of date.
Any deals mentioned may have changed or may no longer be available.
Early Black Friday broadband deals: TalkTalk 25% off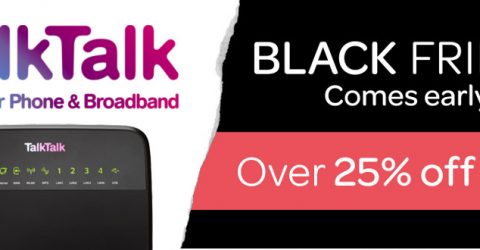 TalkTalk are trying to beat their broadband rivals to the punch by launching early Black Friday broadband deals.
38Mbps fibre broadband is coming down by 25%, from £33.50 a month to £25 a month, with unlimited usage and no data caps.
17Mbps standard broadband is also dropping in price by a quarter, from £27 a month to £18.95 a month.
TalkTalk say these deals are "the perfect way to beat the Black Friday frenzy" and get a head start on finding the best deal.
These offers are available to both new and existing TalkTalk customers, so if you're already with them you can get hold of this cheaper price deal.
What is Black Friday?
Black Friday is a day of discount heaven for shoppers, both in-store and online.
Major retailers in fashion, homeware, tech, TVs, phones and household gadgets drop their prices for a flash sale over the course of 24 hours.
Customers will queue up outside stores for hours to grab the best bargains. Black Friday has been criticised as the massive discounts on offer lead some serious shoppers to get violent as they try to get their hands on the best limited-time deals.
In 2017, Black Friday falls on 24 November.
TalkTalk early Black Friday broadband deals
From Friday 20 October 2017 until Thursday 2 November 2017 TalkTalk are offering a sale on both standard and fibre broadband.
Fast Broadband
For £18.95 a month TalkTalk are offering their standard 17Mbps broadband, fixed for 12 months.
What you get
No set-up fees
Download speed up to 17Mbps
Free Super router
Price stays the same for 12 months
No Broadband Package

No Landline

Month Contract

Setup costs

£

0

£

0

(inc. new line)
Faster Fibre Broadband
For £25 a month customers can get TalkTalk's 38Mbps fibre on an 18 month deal.
The price is fixed across the course of the contract so you can be confident that your outgoings won't suddenly leap up and leave you in a pickle.
What you get
No set-up fees
Download speed up to 38Mbps
Free Super router
Price fixed for 18 months