How to beat the January 7 BT price increase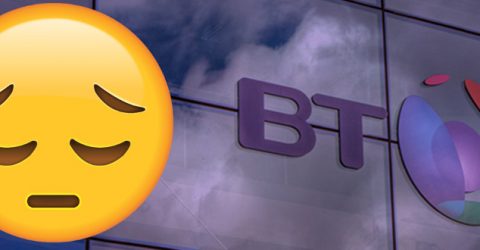 A BT price increase on broadband may have the opposite effect for the telecoms giant, pushing more customers to switch, after it announced higher bills from 7 January 2018.
Broadband bills have gone up by an average of £2 a month.
But because the changes are 'mid-contract' – that is, because customers will be forced to pay more for their broadband package than agreed when they signed up, they can switch away from BT without paying out a termination fee, or any other financial penalty.
This means they can switch out of BT broadband without incurring massive costs, making it much more attractive to see what other deals are out there.
Guide: How to switch broadband
Which BT broadband prices are going up?
Standard broadband is going up by £2 a month. So customers on BT's slowest 17Mbps broadband packages will now be charged £37.99 a month up from £35.99.
Fibre prices are increasing by £2.50 a month. BT Infinity 1 (52Mbps) customers will see their bills increase to £44.99 a month.
It's the fourth price rise for BT customers in less than three years.
Long-suffering BT internet users saw their monthly bills go up in July 2016 and again in April 2017.
Calls to landlines and mobiles are also going up by 1p per minute.
Prices for BT Sport stay the same at £3.50 a month through BT TV.
I'm with BT, what can I do?
The key thing to note here is that you can still cancel your contract if you're not pleased.
If you're a broadband customer you should have already been contacted by letter, phone or email about the BT price increase.
To leave or switch without paying a penalty or early termination fee, customers need to contact BT within 30 days of getting the price increase notification.
Unfortunately if you've already had the letter, email or phone call about your price increase and 30 days has elapsed, you won't be able to switch away without penalty.
If you've signed up to BT recently and you've picked up one of the new customer price offers (see below) your bills shouldn't be affected by the price rises.
Want to switch?
You have 30 days from receiving notification from BT to respond to the price changes.
That means you can:
stick with your current deal, which in the eyes of the law means you're happy enough to carry on
Sign up to a new, different deal with BT. This keeps your costs down and (until 11 January) leaves you eligible for a cashback card worth up to £125, but it does extend your contract with BT for another 18 months.
Switch to a different broadband deal with another provider.
BT deals
Want to stay? See all BT deals here.
Sky deals
Sky are offering a £50 prepaid Mastercard as a sweetener for anyone signing up to standard or fibre broadband this month.
See all Sky broadband deals here.
Vodafone deals
Vodafone's straightforward fibre broadband deals are back for the January sales. That means 38Mbps fibre for £22.50 a month, or 76Mbps fibre for £27 a month.
Vodafone is popular because when you click through to See Deal, they'll ask you to enter your postcode and address on their website.
Then, they'll estimate the broadband download and upload speed you're likely to get before you sign up or pay for anything.
See all Vodafone broadband deals here.
Plusnet deals
Sick of endless contracts for your home broadband?
Plusnet's one-month rolling deal offers a nice way out of the endless merry-go-round of planning 18 months ahead when your broadband goes bad.
See all Plusnet broadband deals here.
What does BT say?
BT is bleating that the 'investment' will allow them to pay out more for speed boosts and extra data on the average 18 month contract.
BT is still one of the only modern broadband providers to limit some of its monthly data allowances to 30GB. Almost every other provider now goes with unlimited services.
In a statement they admitted: "We know that no one likes price changes, but this allows us to upgrade our services and give you more. Every customer will see improvements to their products and services alongside these changes.
"[Customers] can stay on the same broadband deal for the same price as they were paying before this change, if they sign a new contract."