Free WiFi hotspots and where to find them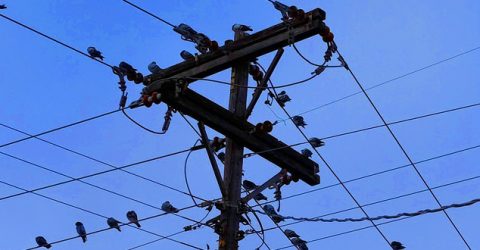 Given the UK's patchy 4G mobile network, free WiFi hotspots remain hugely important for communicating on the move.
From bars and benches to trains and trams, WiFi networks are more prevalent than you might assume.
These are some of the places you can find free WiFi hotspots around the country:
Public transport
As competition increases across transport networks, major franchise holders are investing in WiFi connections similar to those historically found on long-distance train networks.
Ironically, Virgin Trains now charge for WiFi – unless you're a first-class customer.
Buses: Leading operator First Bus offers free WiFi on many of its UK networks, as do
Stagecoach and (to a lesser degree) Arriva.
Coaches: Megabus has recently replaced its fleet with WiFi-enabled coaches sporting charging points. National Express even offers its own free airline-style entertainment hub on selected routes.
Trains: Most UK rail companies offer basic WiFi on-board. However, Heathrow Express, Grand Central, Hull Trains and Chiltern Railways were the only providers scoring over 50% WiFi satisfaction ratings in a recent passenger survey.

Great Northern and Southeastern scored just 18%, slightly below Southern and Merseyrail.

Trams: Manchester Metrolink trams are fully WiFi enabled, while Edinburgh Trams offer low-speed WiFi that's fine for checking emails. However, Metro Trams in the north-east of England are still offline, and so are Sheffield's Supertrams.
Mobile networks
BT: The UK's leading telecom firm has five million WiFi hotspots throughout the UK, which are free to use for BT Broadband or Unlimited subscribers. Other networks like Vodafone often piggyback on BT's infrastructure, too.
Sky: The recently-rebranded Sky WiFi network is far smaller than BT's, but it still offers connectivity in shops and cafés.
o2: There are over 15,000 o2 WiFi hotspots around the UK, free to use even for customers of other networks.
Virgin Media: Travellers on the London Underground will be able to use Virgin's WiFi, while two million other hotspots are scattered around the rest of the UK.
Shops and restaurants
Local high streets are great sources of WiFi, right down to Greggs and Caffè Nero.
Most restaurants and hotels offer free WiFi hotspots, which you can use simply by buying a coffee.
There's free WiFi at Lord's Cricket Ground and the EE-sponsored Wembley Stadium, which claims to be the world's most connected stadium.
MoreVirgin's turning your router into a public wifi hotspot
However, WiFi issues are common at large venues like Birmingham's NEC and Glasgow's SSE Hydro.
City centres
In the rush to become Connected Cities, the likes of York and Glasgow have public WiFi zones in key retail or leisure areas.
A thousand public buildings have had free WiFi introduced in recent years, from Belfast Castle to Brighton Town Hall.
The great outdoors
Next time you sit on a park bench, you might want to check available networks.
The Smart Bench network provides WiFi and even mobile charging in densely-populated areas like Canary Wharf.
Regrettably, Islington is planning to remove its smart benches, amid fears they could encourage phone theft.