How do you deliver broadband to an island?
Broadband in island communities can be a hit-and-miss affair, not helped by the UK's awkward geography and topology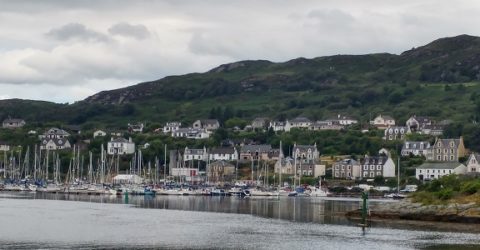 Nobody's entirely sure how many islands surround the United Kingdom, though conservative estimates put the number at around six thousand.
It's easier to calculate the number of permanently inhabited islands. There are 123 in total, not including Britain and Northern Ireland.
These range from Lewis and Harris, jointly covering 840 square miles, to the tiny St Martin's and St Agnes, which each cover less than one square mile.
Populations also vary, from 80,000 on the Isle of Man to just two on the Calf of Man. The latter is one of ten islands whose population may be measured in single or double figures.
The majority of our islands are situated off the west coast of Scotland, complicating the rollout of broadband in island communities.
Indeed, as we recently reported, the Scottish Government's R100 (reaching 100 per cent) scheme has encountered multiple setbacks and delays.
Since our last article was published, it's been reported that R100 will take at least four years longer than originally promised, with an estimated completion date of 2026 now being intimated.
And while the SNP's original date was always unlikely to be unachievable, it's true that there are significant obstacles surrounding the provision of high-speed broadband in island communities.
20,000 gigabits under the sea
The main way to deliver broadband in island communities involves tapping connections off the network of lightning-fast full fibre cabling already in situ on the mainland.
That recently happened on the Shetland Islands, where the local council has created an arms-length telecom company to establish local networks.
A sub-sea fibre optic link to Yell was completed in March, linking this substantial land mass with the Toft port on Shetland's biggest island, five miles away.
Connection points have been installed along the route, enabling community halls and hamlets to tap into connectivity that may eventually extend to the neighbouring island of Fetlar.
Around the same time, the Scottish Government was naming 16 more islands set to benefit from subsea fibre optic cabling linking to Openreach's infrastructure on the Scottish mainland.
These include Fair Isle, Orkney, Eigg and Colonsay.
Some islands will receive more than one sub-sea cable, ensuring greater resilience and allowing connectivity to flow from the mainland to major islands and onto smaller ones.
Arran will be linked to both North Ayrshire and south Kintyre, with the latter peninsula also connected to neighbouring Islay and Jura – itself linking back to north Kintyre.
When will work be completed?
Groundworks are due to begin next month, and cable laying is scheduled to commence in the second quarter of next year, if these notoriously choppy west coast waters will allow it.
Conquering the elements and uneven seabeds could take as much as five years, potentially pushing R100's completion date even further back.
In the meantime, communities with no 5G infrastructure and patchy 4G indoor coverage will have to endure slow connection speeds – or sign up to expensive satellite broadband.