How to get Freeview on your TV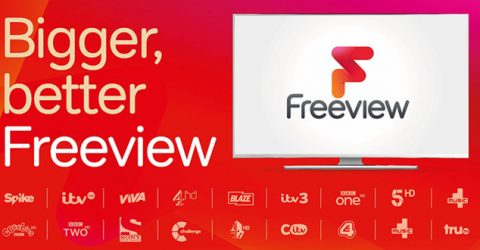 Since 2010, all new television sets in the UK have been sold with Freeview built in.
The Freeview channels provide a wide variety of entertainment, especially in conjunction with streaming services like Amazon Prime or Netflix.
These include the main live, +1 and HD channels from the BBC, ITV, Channel 4 and Channel 5, as well as free-to-air stations like Challenge, Viva, Spike, TruTV and the Sony Movie Channel.
Freeview customers don't need to run Virgin Media cables in from the street, or mount a Sky dish on an outside wall (although with Sky moving its TV content online, the age of the satellite dish is coming to an end).
However, getting Freeview on your TV does require a reasonably strong broadcast signal.
The importance of a good TV aerial
Ofcom say 98.5 per cent of UK households can receive digital TV, but television aerials play a vital role in accessibility.
A good-quality aerial will be around a foot long. In houses it is ideally located on the roof or in your building's loft space, while flat owners or tenants should see their aerial leave the building via an outside wall.
Portable indoor aerials (often resembling wire loops or plastic coat hangers) are less powerful, and prone to interference.
They can struggle to receive a strong signal, particularly in wooded areas or inside a building with thick walls.
This can lead to missing channels in your TV guide, pictures that keep pixelating and freezing, or sound that stutters and drops out.
If you need to upgrade your aerial, a list of approved installers is available to view here.
Ways to watch Freeview on your TV
Assuming your aerial is up to the job, Freeview signals can be received in one of two ways:
Through a television with Freeview built into it
Through a standalone Freeview set-top box
Below, we explain how to ensure your smart TV or set-top box provides you with the full complement of available Freeview channels in your area.
It's worth remembering to re-scan after moving house, in case there are differences between the channels broadcast in your old and new locations.
Freeview has a postcode-based search tool online, which lists all the channels available in your area.
Setting up a smart TV
This is often the simpler option, as it doesn't require complicated cabling or installation – just the standard aerial socket used to connect your TV to the wall.
Before turning on your new TV for the first time, ensure the aerial is connected between the wall socket and the Antenna/RF In/Aerial socket on your TV.
The TV should begin an automatic installation process when it's first turned on, usually asking you to approve general settings like the display language.
It will then begin scanning the digital frequencies used to broadcast each Freeview station, storing any channels it finds. A full scan usually takes a few minutes.
The results of this scan are dependent on your proximity to transmitter masts and the quality of your aerial.
Because channels are grouped together on similar frequencies, you might notice all the BBC channels are missing, or all the ITV channels. If this is the case, you may need to try moving your aerial around and re-running the scan.
Once you're happy with the results, save the channels.
Setting up a standalone set-top box
Set-top boxes involve more cables and wires than an integrated smart TV, since the box has to be physically connected to your TV.
This is normally done through an HDMI cable, though older boxes may still rely on chunkier SCART cables. The aerial lead should be plugged into the set-top box.
Turn on the TV, and use the Source button on its remote control (usually depicted as a rectangle with an arrow through it) to access the relevant HDMI or SCART input.
Turn on the set-top box, and follow the on-screen instructions. The channel search procedure should be similar to the one outlined above for smart TVs.
How to record TV with Freeview
This varies according to each device's technical capabilities, since Freeview receivers lack the hard-drive storage found in more expensive recorders.
Modern smart TVs incorporate a variety of recording systems, including plug-in USB storage or internal hard drives.
If your TV or set-top box is capable of recording content, it still won't have the multichannel recording capabilities of Sky Q or Virgin's TiVo V6 box.
Single-receiver systems can't even support recording one channel while watching another, so a twin-receiver device is recommended.
You choose programmes to record by selecting them in your TV guide, as you would with cable or satellite services.
Many modern smart TVs and set-top boxes are even compatible with catch-up services, making it easy to record programmes you've missed after they've been broadcast.