Sky TV moves online marking end of satellite dish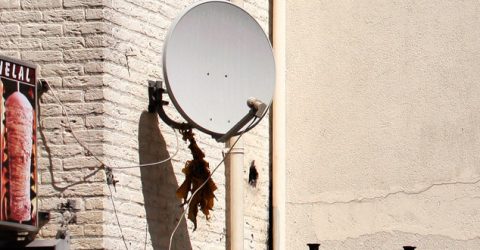 By the beginning of 2019 people who cannot get a satellite dish installed will be able to get Sky TV over the internet instead.
In the face of stiff competition from Netflix, Sky is making all its premium TV channels and content available online, a move that spells the beginning of the end for the humble satellite dish.
The broadcaster said that using the internet to send content to customers' TVs will open up more of the market for them, including to people who can't get a satellite dish installed at their house or flat.
Around 2 million people in the UK can't get a satellite dish at their home, mostly due to flat leasing rules that prevent dishes being installed on the outside of their building.
"This is a major development for Sky that will open up headroom in existing markets and offer a future way into new markets," a spokesperson said.
Sky already offers some of its premium content online and this week launched the NOWTV streaming stick that lets customers access entertainment, sports, movies and kids channel packages on any TV.
The plans emerged as the company announced its results for the six months to the end of December.
Alongside positive moves in the SIM Only sector – where Sky Mobile picked up an extra 131,000 customers – Sky saw pre-tax profits rise from £342m to £448m.
While Europe will be the first market to see Sky's online content, the UK is expected to get it by the end of 2018 or beginning of 2019.
Sky has said that it has no plans to stop broadcasting TV via its satellites.
But if the broadcaster can do everything online, the days of spending vast amounts of investor money to launch satellites into orbit are no doubt coming to a close.
MAIN IMAGE: passer-by/CC BY-SA 2.0