How to squeeze a home office into a small space
Creating a home office in a small space might seem ambitious, but modern technology can support workspaces in the most unlikely places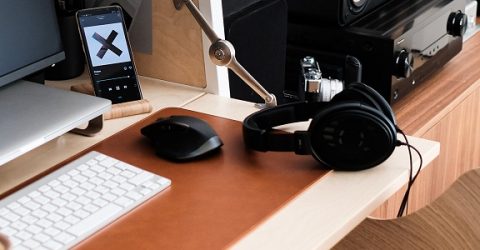 A fortnight ago, we published a feature about how to create a home office in your garden. But not everyone has a garden.
Last week, we discussed about how to fashion a spare room into a home office. However, many households don't have an unused room at their disposal, either.
If your home is already bursting at the seams, it might seem impractical (or even implausible) to form a dedicated office space.
Yet there are numerous ways to create a home office in a small space, thanks to a number of wider environmental factors.
Firstly, technology is constantly shrinking in size. The days when sending emails involved a tower PC plugged into a cathode ray monitor are long behind us.
Secondly, wireless connectivity has been transformed by a combination of dual-band routers, 5G and Powerline adaptors. You don't need to be near your router to benefit from it.
Thirdly, the success of TV programmes like Renovate Don't Relocate and Amazing Spaces has shown millions of people how to create a home office in a small space.
So how do you tackle the challenge of creating a dedicated workstation in a property where even cat-swinging poses a challenge?
Start small, think big
Firstly, think about your home as if you were viewing it for the first time. Are there any corners that are never used, or ancillary areas lying idle?
Perhaps there's space for a compact desk on your upper landing, or maybe there's a walk-in cupboard which is full of items that could be relocated elsewhere.
You only need a few square feet of available floor area to create a home office in a small space. If there's space for a dining chair or folding seat, you've got enough room.
As well as somewhere to sit, you'll need a platform suitable for resting a keyboard on. The chair should ideally slide underneath it, or fold up against a wall when not in use.
The platform itself doesn't need to be particularly deep, given the emergence of streamlined all-in-one computers whose hardware is contained within the monitor.
You could also use a laptop, or even a tablet with a wireless keyboard and mouse. Like all-in-one computers, they require minimal space.
With essential hardware taken care of, it's time to add some practicality to your compact workstation.
A full spectrum lamp will brighten the gloom of an internal space, and high-level storage above the monitor/computer/keyboard platform can house anything from files to printers.
Speaking of peripherals, use wireless connections to minimise cables. You shouldn't need more than a single plug socket with a surge-protected adaptor.
A pair of noise-cancelling headphones will drown out background noise, allowing you to concentrate even if your workstation is in a busy room.
It might not be a luxurious environment, but this workspace will be perfectly sufficient – providing you take regular leg-stretching breaks…