Protecting your content from plagiarism and reuse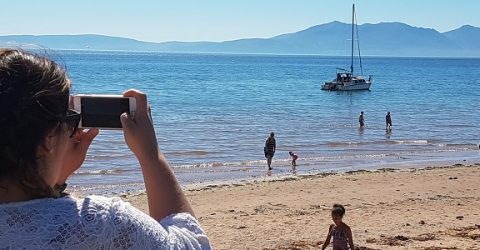 Imitation is the sincerest form of flattery, but there's a fine line between replicating someone's work and plagiarising it.
The growth of photography apps like Instagram has seen a spike in the unauthorised reuse of original content, while written materials have always been prone to replication and theft.
So what can you do to ensure your professional output or personal labours aren't being passed off by someone else as their own work?
After all, search engines mark websites down for plagiarism, yet they're not always able to accurately identify where content was originally published.
These are our tips for copyrighting online content…
Be clear at the outset
A simple "© Your name here" message on each webpage should be sufficient in terms of copyrighting online content, deterring most people from republishing your work.
If your content is personal or hobbyist in nature, politely ask people to attribute you as the source of anything they republish. Sites like Wikipedia often quote authoritative content.
If material was produced in exchange for remuneration, it's best to stipulate in a Contract for Services document what is (and isn't) allowed to happen to anything you produce and supply.
If you take photos for an estate agency, who has the rights to reuse those images in future? If the vendor changes agency, can they still use them? Can you include them in your portfolio?
The write intentions
If you wrote something, it's legally yours unless it was produced on a white label basis for a specific client.
Unless it's saved as an Adobe PDF, written content is easy to copy and paste. Sites like Copyscape and Grammarly can quickly check if it's been published on multiple sites.
If it has, a cease-and-desist email to the website's owner (find them on the who.is website) generally sees content being taken down. If that doesn't work, try sending a solicitor's letter.
Include screenshots of original document file data, which should demonstrate that you created it long before anyone else published it (in case they try to claim it's their own work).
Picture perfect
Images are often reused without the author's permission, so ensure every image is saved with a copyright note in the alt text, in its description or even in its title.
Search engines categorise photos according to whether they can be reused and/or modified. Always check this when downloading photos to reuse yourself.
Tools like Adobe Photoshop and GIMP make it easy to watermark images in batches, while uploading photos to Dropbox triggers an option to watermark each image.
You could also lower the resolution to a point where they wouldn't be of professional use, or even resize them. We publish images at a quirky (and easily identifiable) 900×300 resolution.
Getting technical
We mentioned earlier how PDFs rarely support copy-and-paste, making this a good format for saving original work in.
You could also investigate whether copyrighting online content can be augmented by disabling text selection.
Customise RSS feeds with copyright notices. WordPress plugins like RSS Footer link back to the source with anchor text, while other plugins prevent images being downloaded.
You could even set up a free Google Alert for specific terms, which will automatically ping you with the URL of sites replicating that search string as Google scrapes them.
Speaking of Google, you could lodge a complaint under the Digital Millennium Copyright Act. Plagiarised content may be stripped from search results, rendering it almost invisible.