The UK's best cities for working from home
New evidence has revealed the best cities for working from home or setting up a new business, including some surprising candidates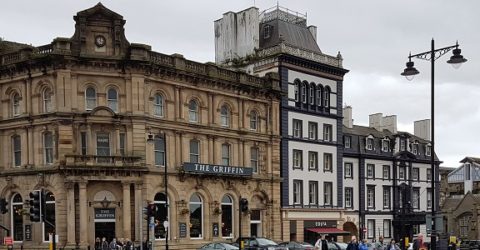 Love it or hate it, working from home is here to stay.
Companies in numerous industries are developing hybrid employment models based around a combination of home, office and local hub destinations.
Meanwhile, employees have discovered that the amount of free space in their homes is far more important than its location, as commuting increasingly cedes to home working.
And with almost 9 out of 10 employees in some surveys expressing a desire to permanently work from home for at least part of the week, there's less need to live near employer HQs.
As a result, London is no longer among the best cities for working from home. Other conurbations up and down the country have begun to offer more compelling attractions…
Border force
With over 835,000 new companies registered in the UK since the COVID-19 pandemic began, a new generation of entrepreneurs has had the luxury of choosing where to base themselves.
The photo accompanying this article shows the prosperous border city of Carlisle, which has just been ranked fourth in a list of the best cities to start a new business.
It achieved this ranking based on everything from internet accessibility and the number of post offices to unemployment figures and the five-year survival rate of startups.
Carlisle was beaten to the medal placings by three similarly-sized conurbations in equally peripheral geographic locations – Gloucester, Norwich and Southampton.
None of these cities would suit someone with a career dependent on being in a London office for 40 hours a week.
But when you only need to travel to the office once a week, their benefits are hard to ignore.
Carlisle has direct rail access to most of the UK's biggest cities. It's relatively affordable, and its northern suburbs have some of the lowest levels of crime anywhere in England.
Southampton is also a superb location for travel, with a well-connected airport and one of Europe's leading container and cruise ports.
Both are home to hyperlocal broadband firms offering gigabit connectivity, in parallel with impressive Openreach infrastructure.
And both offer generous average pay levels for full-time workers, as do other top ten entrants like Swansea and St Albans.
Something new…
It's notable that the list of cities compiled by Dojo didn't include any of the UK's traditional employment centres – or its four capital cities.
This report didn't take house prices into account, but the cripplingly high cost of property in London is undoubtedly leading a drive to the outer zones and beyond.
HelpWhat if I can't get fibre?
Proximity to an office will remain advantageous for many employees, but it's unlikely we'll ever see a return to five-day commuting on a mass scale.
As such, employees and entrepreneurs will continue to migrate to the best cities for working from home, rather than the best cities for their employers to be based.
The latest gigabit FTTP broadband offers may take time to roll out, but with 96% of UK households now able to access fibre networks, reliable and cheap broadband is widely available for most home workers – though they may need to switch providers to get it.