What happens if my broadband provider goes on strike?
There are growing concerns that a broadband provider strike may happen in the next few months.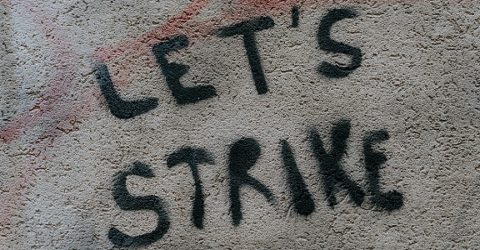 If you're old enough to remember the Winter of Discontent, recent events may feel like an unwelcome repeat of history.
Then, as now, workers across the public sector were balloting for strike action, demanding pay rises far ahead of inflation that was itself proving a major source of disquiet.
Then, as now, the Government was wobbling after a series of self-inflicted PR disasters, and riven with disagreements about how to tackle key economic challenges.
In many ways, the current situation is even worse, with COVID still causing issues and the war in Ukraine affecting everything from grain supplies to international shipping lanes.
And with everyone from barristers to bus drivers having already downed tools this summer, industry regulator Ofcom is increasingly concerned at the prospect of broadband provider strikes.
Should consumers be worried as well?
What would broadband provider strikes involve?
Firstly, it's important to remember that the internet is largely self-governing. It needs a huge amount of maintenance, but network coverage isn't dependent on human supervision.
It's not like those old operator-manned telephone exchanges, where connections could only be made by someone physically moving cables around.
Even if your ISP's entire workforce walked out, your broadband router should remain operational – and the internet at large wouldn't be affected.
It's also worth noting that previous threats of strike action weren't acted upon – BT workers threatened action in 2010, but a subsequent ballot was cancelled.
The threat of strikes is often used as a blunt instrument in pay negotiations, though runaway inflation does tend to underpin direct action.
How likely are broadband provider strikes?
At the time of writing (late-July), there's a high chance, with huge company profits not trickling down to frontline worker pay scales.
However, as the Conservative Party has spectacularly demonstrated, events can move at incredible speed.
At the end of last month, BT and Openreach staff voted overwhelmingly for strike action, while Virgin Media O2 staff did the same in April.
Industrial action by the UK's two biggest broadband infrastructure providers carries far greater ramifications than a strike by an individual ISP.
How might consumers be affected?
The BT/Openreach and VMO2 strikes are being driven by the Communication Workers' Union, but not all employees are members, and not every member obeys an instruction to down tools.
There might not be any new cabling laid for the duration of any strike, but that wouldn't affect existing customers.
More significant issues would revolve around attempting to move house mid-strike, or delays getting Openreach connections installed.
Nonetheless, corporate resilience against sudden disruption is far higher post-pandemic, and the recent rail strikes didn't have the impact their organisers had expected.
Many broadband customers would remain oblivious to strike action affecting their ISP unless a problem suddenly arose.
Even then, a skeleton staff should remain in operation, focused on resolving technical issues and maintaining network performance.
From a customer perspective, strikes can be considered regrettable – but not automatically detrimental.