What's gigabit broadband?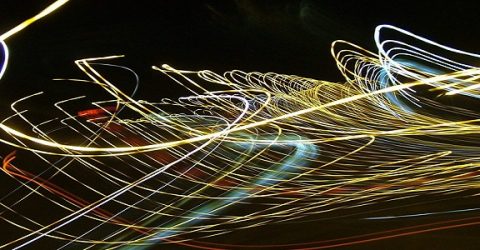 The pace of improvements when it comes to internet connections is startling.
In twenty years, we've gone from dial-up internet with a maximum throughput of 56Kbps (and in reality barely a tenth of that) to 300Mbps fibre broadband.
Yet these meteoric improvements in connectivity are still struggling to keep pace with our spiralling data demands.
Streaming media services, online gaming and cloud-hosted workplace software provide three examples of domestic internet usage changing beyond recognition since the millennium.
The number of Internet of Things devices (Amazon Dash re-order buttons, smart washing machines, Nest thermostats, etc) in UK homes is expected to treble by 2025.
Even broadband speeds measured in hundreds of megabits per second would struggle to transmit projected data volumes in future decades.
That's where gigabit broadband comes in.
Getting the gig
As the name suggests, gigabit connections should be able to support data transfers of 1Gbps – far faster than any current domestic services.
They'll use fibre optic cables, rather than the slower copper lines responsible for today's 11Mbps and 35Mbps connection speeds.
The UK Government has already pledged to roll out gigabit broadband nationally by 2033, but progress remains slow.
Last month, the Confederation of British Industry told the Government it urgently needs to fast-track new laws to ensure these targets are met.
After all, it isn't politicians who'll be digging up and replacing our existing subterranean cable networks.
Broadband infrastructure in the UK is installed by several competing firms – former BT offshoot Openreach, Virgin Media, KCOM in Hull and new market entrants like CityFibre.
No commercial enterprise can run at a loss year after year, yet it's hard to make much profit from installing gigabit fibre cabling to remote village communities.
Looking to the Future
Last summer, the UK Government published a Future Telecoms Infrastructure Review.
It predicted several billion pounds of public funding will be required to support full fibre rollout in ten per cent of locations – the UK's most isolated corners.
The total cost of equipping the whole nation with gigabit broadband speeds has been estimated at £30 billion, though some cabling has already been installed.
Costs will also be sub-divided among several providers over many years, while increased end-user charges should eventually recoup most of this initial outlay.
The final frontier
From a consumer perspective, gigabit connectivity won't replicate the dramatic improvement people experienced when switching to broadband from dial-up.
It'll simply provide a smooth and dependable internet connection in the home and office.
It ought to eliminate any latency or buffering currently occurring at peak times, providing a consistent online experience for residents of London, Lerwick and Llanelli.
Crucially, it'll also maintain always-on connectivity for devices which can't afford to be offline – cloud-managed medical equipment, home security systems and so forth.
And in tandem with new technologies like 5G and LiFi (internet connectivity through LED lighting), it should equip us for whatever data requirements arise in future.