What's WordPress?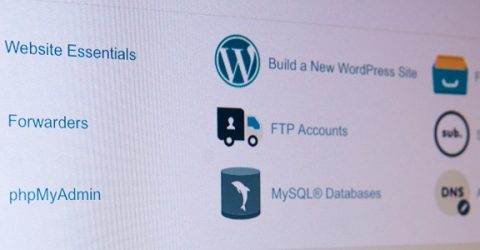 Until 2003, creating a website involved placing your trust (and a considerable sum of money) in the hands of a web design agency.
Then WordPress came along, and everything changed.
Evolving out of a little-known blogging tool called b2/cafelog, WordPress was intended to be a website design tool which reflected the internet's democratic ideals.
It provided a simple and low-cost way to self-publish content online, giving people with no previous programming experience the chance to build and launch their own websites.
And while WordPress.org is now the world's most popular blogging platform, its sister site WordPress.com has evolved into an astonishingly successful website building tool.
Clients include the BBC, Reuters, Ford, Microsoft and Spotify.
Despite the arrival of competitors like Wix and Weebly, an estimated 35 per cent of live websites owe their existence to WordPress.
But how did this blogging platform become such a global phenomenon?
Hot off the 'press
WordPress succeeded because it handled all the complex HyperText Markup Language coding on behalf of its users, generating HTML in real time as people edited websites.
By adopting a principle known as WYSIWYG (What You See Is What You Get), WordPress revolutionised website design, hosting and management.
As users uploaded their own photos and added whatever content they felt like, the platform would be discreetly tweaking the source code to incorporate these changes.
Then, when the site was eventually published, any web browser would be able to display the content. And all without needing to use – or even needing to know what they do.
Plugin baby
The main WordPress framework is a surprisingly small parcel of code, handling all the website essentials. This makes it quick to run, simple to maintain and easy to modify.
Onto this skeletal framework, site owners and administrators can add standalone pieces of code known as plugins.
Each plugin performs a specific task. For instance, YouTenberg is great for integrating YouTube videos, while Akismet filters out spam from contact forms and comments sections.
With a total of 55,500 plugins currently available, it's possible to modify your site in any way you see fit.
There are thousands of dedicated plugins aimed at ecommerce sites, blogging platforms, and so forth. Some are home-made, while others have been created by global corporations.
Each plugin performs its designated function when needed. Otherwise, it sits quietly in the background, to avoid hogging a user's system resources or slowing down the site.
Meanwhile, the core WordPress framework is excellent at tasks like social media integration and minimising page loading times – both of which are high priorities nowadays.
There are thousands of pre-designed templates to develop a site from, many intended for specific purposes like ecommerce or community-based websites.
If you look closely at the layout and appearance of websites you visit, you might start to notice similarities.
Indeed, some templates are ubiquitous in certain industries.
Das ist Gut
One of the most dramatic changes in WordPress's 17-year history happened in late 2018, when the Gutenberg editor was introduced.
This replaced a tried and trusted method of editing and building webpages with a block-based alternative, to the consternation of many platform devotees.
Gutenberg is clearly a superior editing system to its predecessor, but people are remarkably resistant to change, especially when they feel strongly about something.
The community-based nature of WordPress and the fierce devotion displayed by its fans was always going to make Gutenberg controversial, especially during this transitional period.
Today, a first-time visitor to WordPress.com wouldn't have any indication that the Classic editor has been relegated to plugin status, and will eventually be dropped altogether.
The old HTML-based interface has been replaced by a simpler block structure. A piece of text comprises a single block, as does a photo, a headline, a clickable button, and so forth.
Blocks can be dropped onto a blank page or moved around an existing template, providing greater support for multimedia files and externally-hosted content such as YouTube videos.
Benefits include simpler formatting, better integration of table data, and the ability to create portrait websites more easily than ever before.