Why full UK coverage is impractical for broadband providers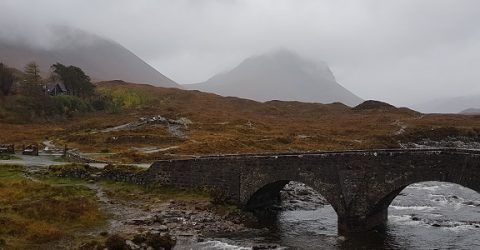 If you've ever wondered why the UK has such a patchy broadband infrastructure, it's worth considering the Cambridgeshire village of Papworth.
Earlier this year, Virgin Media began a real-world test using Ethernet passive optical network technology.
This connectivity can potentially provide download and upload speeds of 8Gbps, enabling people to download a 5GB file in a few seconds.
However, the test is currently only taking place in six houses.
Virgin has hinted it might eventually expand it to 50 properties, but this will remain a tiny experiment in a nation of over 27 million homes.
It's a microcosm of the challenges faced in developing a standard across a country as sprawling, and inconsistently populated, as ours.
Celtic connections
The impracticality of extending high-speed broadband coverage across the country becomes more apparent on closer investigation.
Geographically, Scotland is three-fifths the size of England, despite containing less than a tenth of the population.
MoreHow fast is the UK's fibre broadband rollout?
Scotland also encompasses almost 800 offshore islands, 90 of which are presently inhabited.
Five islands had a population of just one in the 2011 Census, while another half-dozen reported two or three residents.
Nonetheless, as part of the UK, universal broadband coverage has to encompass Eilean Ban and Lunga as well as Edinburgh and London.
Even the mainland poses challenges – and not just because the largest islands on both Shetland and Orkney are officially known as Mainland.
It would be economically unviable for Openreach, Virgin or anyone else to extend full fibre cabling to every hamlet between John o' Groats and Land's End.
Yet that's what "full UK coverage" has to mean – not just metropolitan areas where cabling is easy to install and customers are readily available.
Legacy of Empire
The UK's historic telecommunications infrastructure doesn't help matters.
Virgin Media's network is accessible by roughly 14 million homes, but it's a Frankenstein's monster of varying cable types from different eras.
There's a mixture of Telewest infrastructure, ntl cabling and Virgin's own fibre connections, which have steadily increased in speed over the years.
Like Virgin, other providers tend to focus on urban areas to maximise profits, before redirecting funds towards establishing themselves in less lucrative regions.
These companies have a moral duty to maximise broadband availability, but they also need to remain profitable to underwrite future infrastructure investment.
Spending huge sums to bring full fibre broadband to isolated rural backwaters clearly won't benefit their end-of-year balance sheets.
As a result, the UK will always contain areas (particularly around its periphery) where broadband coverage lags behind more densely populated countries.
Bridging the divide
Despite the huge challenges posed by both our geography and our piecemeal approach to broadband coverage, the future looks encouraging.
Openreach are attempting to improve matters with their Community Fibre Partnerships.
This Government-supported scheme is run in association with Openreach, enabling a group of people to co-fund infrastructure.
There are already over 700 examples of successful Community Fibre Partnerships scheme.
Supported by council funding and grants, local residents club together to pay for a shared trunk line that combines super-fast connection speeds with economies of scale for all parties.
It's also worth noting satellite broadband an connect any dwelling to the information superhighway – at a considerable cost.
As the third decade of the 21st century dawns, nobody should have to endure connection speeds measured in Kbps.
What they will need to accept is a continuing imbalance in broadband speeds, with urban residents getting to enjoy the benefits of faster connections first.