Best Before:
28 / 11 / 2017
Please be aware that some or all of the information in this article is out of date.
Any deals mentioned may have changed or may no longer be available.
Plusnet Black Friday price drop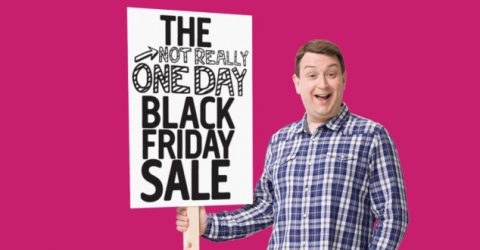 Plusnet are going cheap ahead of this year's Black Friday shopping marathon with cut-price deals on standard ADSL and faster fibre broadband.
Unlimited Broadband with maximum download speeds of 17Mbps comes in at £18.99 a month with £50 cashback.
No Broadband Package

No Landline

Month Contract
Plusnet placed fifth in the 2017 Which? Best Broadband awards.
The Yorkshire brand scored well for its helpful customer service, broadband speed, reliability and value.
Plusnet fibre broadband on its own (speeds up to 38Mbps) comes down to £22.99 a month with no setup fees.
There's also all sorts of extra options if you want to add TV, or inclusive landline calls.
No Broadband Package

No Landline

Month Contract
Over the course of Black Friday and Cyber Monday, Plusnet's quickest broadband, Unlimited Fibre Extra is priced at £29.99 a month on an 18 month contract. This is the 76Mbps one, the fastest fibre they offer.
Both shopping days are expected to be busy this year with a higher proportion of people saving money on deals bought online, rather than in-store.
No Broadband Package

No Landline

Month Contract
How to claim your £50 Plusnet Cashback
To claim your cashback open the email sent to you from Plusnet and click on the link. This email usually arrives within 10 working days of your broadband being up and running and is valid for two months. The link takes you to an online form where you fill in your details and click 'Submit'.
Your £50 cashback cheque will arrive in the post within 30 days.
If you have claimed online and your cheque hasn't arrived within 30 days, or isn't working, contact the Plusnet Rewards Service team free on 0800 587 2013
Plusnet Unlimited Broadband and Fibre Extra deals close on Tuesday 21 November 2017.
Fibre deals close on Tuesday 28 November 2017.
See the best prices available in your postcode on the homepage or by typing in the box below.